Pete's Pics: Bears show diverse looks on defense
Pete Prisco goes to the telestrator to break down film from Week 7's NFL action and comes out of it with several observations. This week, check out the different defensive looks Lovie Smith and the Bears gave to the Lions.
The Chicago Bears used to be considered a Cover-2 team. They didn't do much in terms of what some call "exotics."

They were vanilla, a basic two-deep zone with little in terms of imagination.

Not anymore.

Bears coach Lovie Smith learned at the foot of Tony Dungy, who swore by the Cover-2 scheme. But Smith has branched out, showing a lot of different looks on third down and a lot of different coverage behind it.

Looking at the third-down plays from Monday night's victory against the Lions shows a lot of imaginative stuff. The Bears used lot of pre-snap looks, and then jumped out of them just before the snap.

Here are three of those exotic looks.

In the first picture, you will see the Bears in a four-man front with linebacker Brian Urlacher and Lance Briggs (red circle) showing Double-A gap blitzes. Safety Chris Conte is in the blue circle.  At the snap, Briggs raced to his right to cover tight Brandon Pettigrew, preventing a quick throw there. Conte had the other side covered. That left five to rush and Matt Stafford threw quick and incomplete.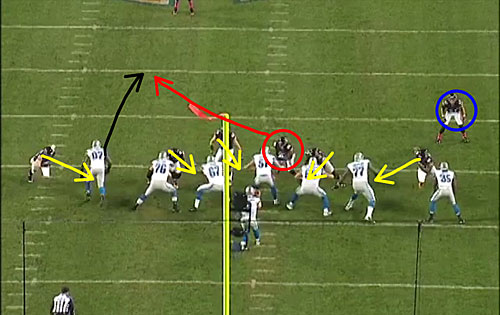 The next two pictures show a similar look that forced another short throw that led to a punt. The Bears have three cover players underneath with safety Major Wright deep. Conte, in the blue circle, is lined up tight on the line with Urlacher and Briggs inside. At the snap, Urlacher blitzed the A-gap, Briggs dropped out, defensive end Shea McClellin dropped out and Conte came off the edge. He was a free runner who forced Stafford to throw early and short.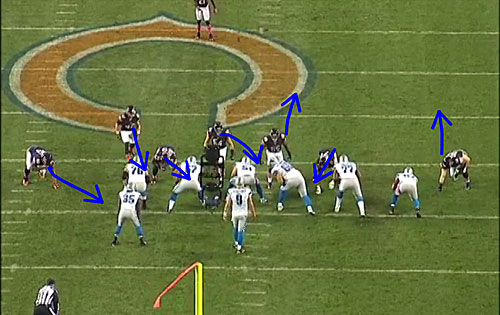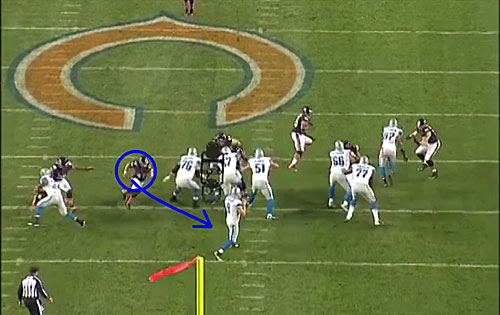 The final play was a screen pass that Urlacher ate up for a short gain. As you can see by the front, they showed the Double-A blitz again with Urlacher and Briggs. Conte, in the blue circle, blitzed again. Safety Major Wright (red circle) dropped to the deep middle and Briggs dropped to the left side. Urlacher played down the line and was able to blow up the screen.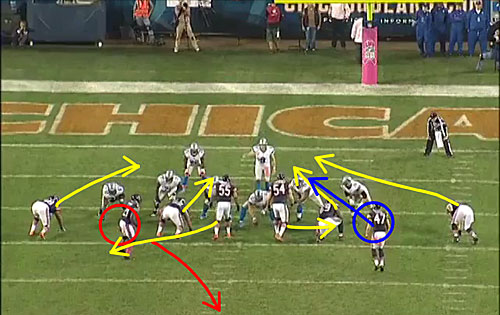 With all the new wrinkles that offenses have thrown at defenses, you can't stand pat. That's why you have to give the Bears a lot of credit for coming up with new looks on third downs to slow down some of these explosive passing teams. Of course, it helps to have a nice front seven to go with it.


What happened to Sean Lee

It's amazing how a team can lose a player on such an innocent-looking play. But that's exactly how the Cowboys lost linebacker Sean Lee for the season. The pictures below show Lee's injury.

It was a simple run play to Jonathan Stewart and Lee got engaged with fullback Mike Tolbert. As Tolbert tried to block him, Lee's foot appeared to slip as he tried to plant. When the play ended, and he disengaged from Tolbert, you could see Lee raising his injured toe to not put any weight on it if possible. You can see that in the second picture.

Innocent enough, but the play leaves a huge void in the Dallas defense.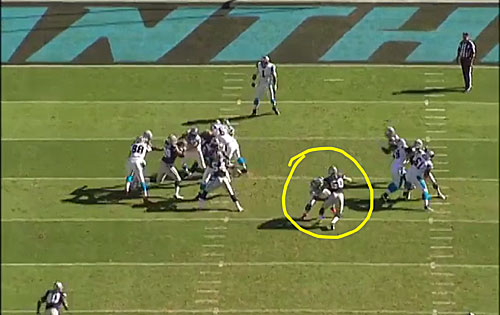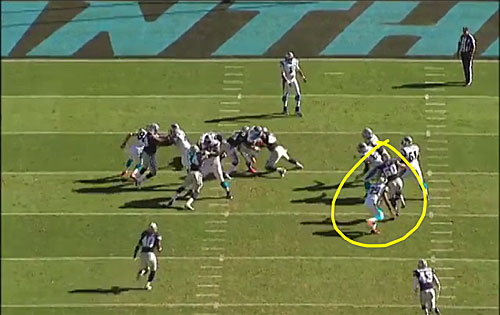 Skins' blown coverage on Cruz
Redskins cornerback DeAngelo Hall was right: They did just give Eli Manning that game-winning touchdown. Take a look at the pictures below and you will agree.

The Redskins had a double on Victor Cruz (yellow circle) in the slot.  They had corner Josh Wilson (red circle) playing inside coverage with safety Madieu Williams (blue circle) over the top. This play should never have happened. Cruz just ran right down the seam and Williams was a fraction late getting over, as you can see. Cruz gathered in the pass and raced into the end zone. Wilson tried to dive to tackle him, but missed and it was six for the Giants.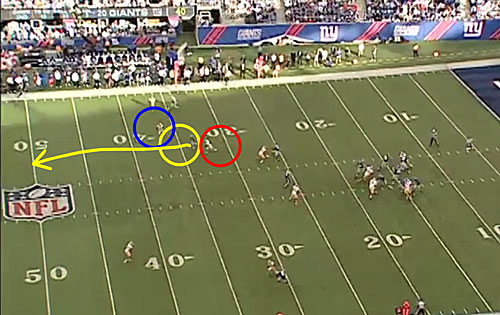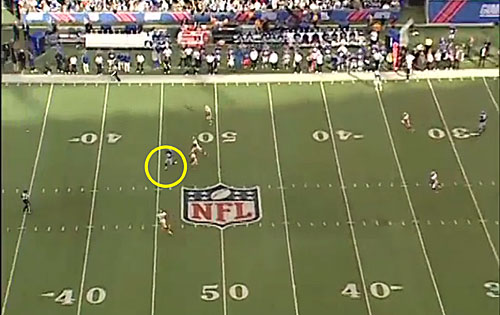 Cobb's double-move on Jenkins

In this week's After Further Review, I mention the double-move Randall Cobb put on Janoris Jenkins for a 5-yard touchdown last Sunday.  Here's the play.

In the first picture, you can see Cobb (yellow circle) lined up in the slot left inside James Jones and Jordy Nelson. Jenkins (blue circle) is lined up in off-man coverage. Cobb looked as if he was going to run and out, and Jenkins jumped it. Bad move.  As you can see from the second picture, Aaron Rodgers had an easy throw for the score.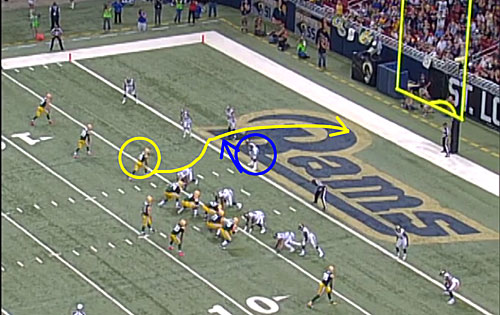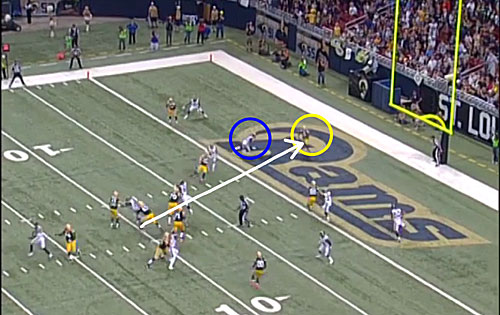 Rudolph will be put under the microscope in Mobile by clubs looking for a quarterback early...

This fan is taking the Saints to court for using 'football games as a platform for protest...

Can Aaron Rodgers get the Packers to the postseason? Even if they win out, they'll need he...
The NFL is going to have to look for a new commissioner

The Washington Redhawks are not an actual thing

CBS All Access allows viewers to stream every NFL game on CBS in their local market