Pete's Pics: Colin Kaepernick's good, but there's room for improvement
Pete Prisco goes to the telestrator to break down film from Week 12's NFL action and comes out of it with several observations. This week: Analysis of some of the things Colin Kaepernick needs to improve upon as he continues starting for the 49ers, and a look at why Jared Allen probably got off easy on a dirty play.
So the San Francisco 49ers have decided to go with Colin Kaepernick at quarterback. Yes, he has done some good things in his two starts, but what I saw against the Saints was his passing on some chances for big plays to take the safe route.

That has to change.

Here's one of those plays.

The 49ers had two receivers lined up wide left (red circles) with tight end Vernon Davis in the slot inside of them (yellow circle). As you can see by the second picture, Kaepernick had a chance for a big play to Davis -- a chance throw, but one the good ones make -- but threw instead to Michael Crabtree for a first down. It's not a negative play, but it's the kind of play he has to change as he plays more. Playing it safe isn't going to get the 49ers to the Super Bowl.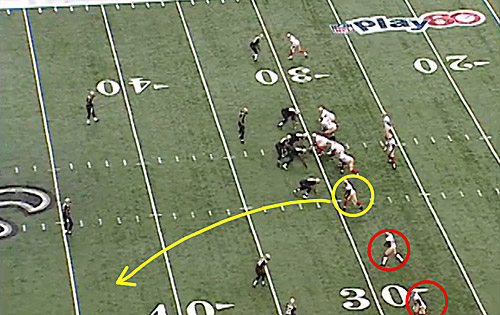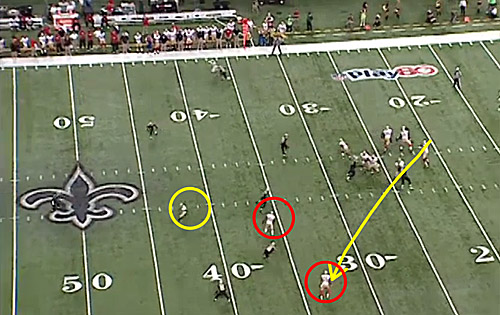 On another play, the one that saw him throw his only interceptions, he needed to play it safe and he didn't, but it was because of a misread, not aggression. He had Kyle Williams (yellow circle) lined up in the slot inside of Crabtree (red circle). Williams ran a corner route and Crabtree ran a little curl. It was obvious that Kaepernick read man coverage, but corner Patrick Robinson (blue circle) bailed on the play and jumped underneath his throw to Williams for an easy pick. Kaepernick needed to go to Crabtree on that play.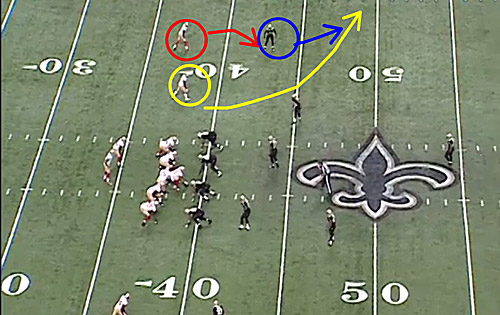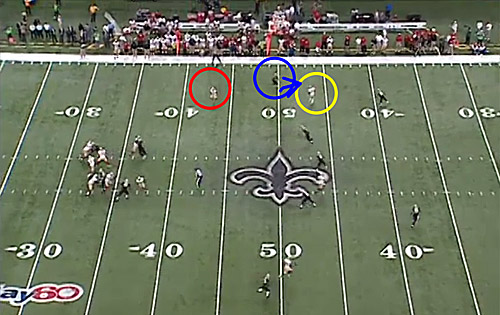 That isn't to say it was all bad. In the fourth quarter, Kaepernick made a big-boy throw to the middle of the field to tight end Delanie Walker for a 25-yard gain. On the play, Walker was lined up on the right side of the formation in the slot between Davis (yellow circle) and Crabtree. The Saints were in a two-deep zone. Kaepernick could have taken a shot to Crabtree at the top, but he instead chose to go inside to Walker. As you can see by the pictures below, it was a tough throw into traffic. Walker made a great catch, but seeing Kaepernick take that kind of chance is a good thing for the 49ers moving forward.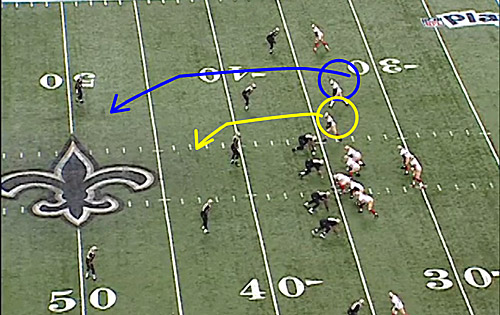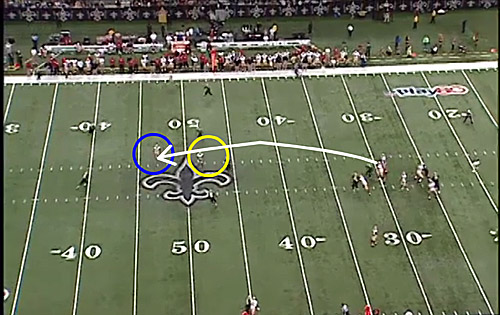 Jared Allen gets off easy

Jared Allen's hit on Bears guard Lance Louis deserved a bigger fine than he received. The league fined him $21,000, but it should have been more. Louis suffered a torn ACL on the play and is lost for the season. Allen said he wasn't trying to hurt him, which is probably true, but the hit was definitely a dirty play. Why? Allen left his feet to strike Louis. There was no need for that. And as the pictures below show, Allen sized Louis up before he violently left his feet to fly into him. It's a dangerous play for sure. If Ndamukong Suh does the exact some thing, he would be suspended for multiple games. Allen got away with one here.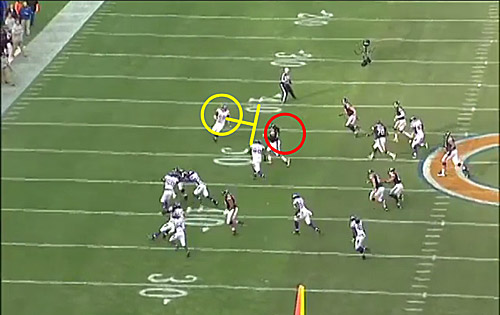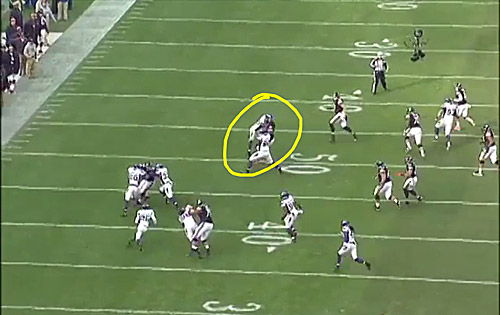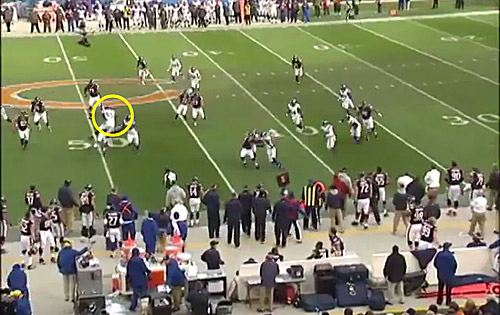 Shorts turns on the afterburners

I mentioned in After Further Review Thursday that Jaguars receiver Cecil Shorts is emerging as a big-play threat in his second season. He is averaging 20.8 per catch. A big reason for that is his ability to accelerate after the catch. Here's a look at his 59-yard touchdown catch last week against the Titans.

On the play, Shorts (yellow circle) was lined up wide right outside of tight end Marcedes Lewis and Justin Blackmon (red circle). You can see the routes the two receivers ran and actually Blackmon was probably the better option for Chad Henne to hit. But he went to Shorts and Shorts made a smooth catch and accelerated past Jordan Babineaux (26) for a big-play touchdown.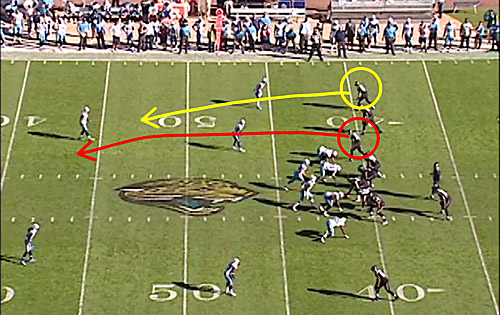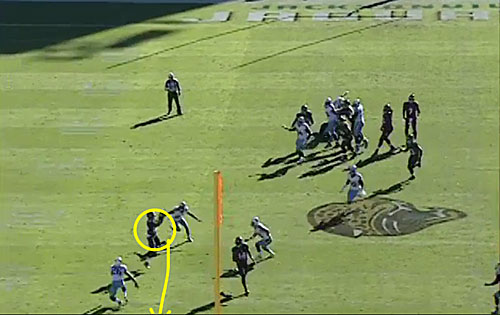 Pick Six Newsletter
Get the day's big stories + fun stuff you love like mock drafts, picks and power rankings.
Please check the opt-in box to acknowledge that you would like to subscribe.
Thanks for signing up!
Keep an eye on your inbox for the latest sports news.
Sorry!
There was an error processing your subscription.
Manning is one of the Giants' biggest problems but the expectation is that he'll remain with...

Osweiler has been good for the Dolphins this season but in 2016 with the Texans, he was one...

Here are the Week 7 grades for every team that played on Sunday and Monday
Wondering which NFL teams are going to win in Week 8? You've come to the right place to find...

According to reports, Bengals owner Mike Brown told Reid he 'intends to prohibit' anthem p...

All the latest trade news and notes from around the NFL including the latest rumors floating...