Pettine: Brian Hoyer, not Johnny Manziel, will start vs. Redskins
Brian Hoyer, not Johnny Manziel, will be the Browns starting quarterback against the Washington Redskins on Monday night. It will be Hoyer's second straight start.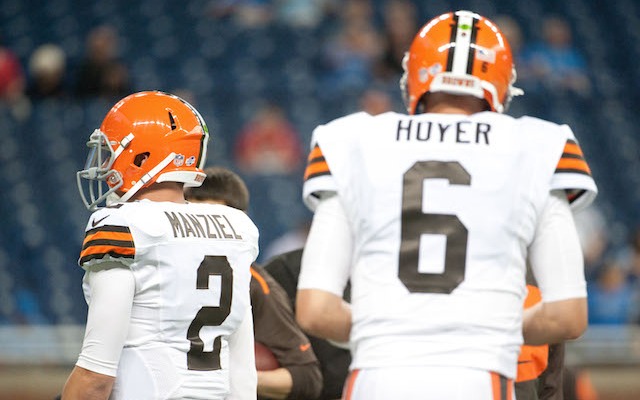 More NFL: Photos |  Videos & GIFs |  Training Camp updates | Manziel watch
At some point, Johnny Manziel will start a game for the Cleveland Browns, but that start won't come on Monday. Coach Mike Pettine announced on Thursday that Brian Hoyer will be the Browns starter for the team's Week 2 preseason game against Washington on Aug. 18. 
"It's just something right now where we are comfortable with Brian going out there to start the game," Pettine said. "I think it's a little overblown as to who the starter is going to be. The key component, as I've stated earlier this week, is that we are going to balance the reps. We will play it a little by ear as it goes on, we haven't truly decided as far as the rotation but the goal is, for when we look at the stat sheet at halftime, that they both have the same amount of repetitions and hopefully they both get a good amount of work."
Hoyer started the Browns preseason opener against Detroit before being relieved by Manziel in the second quarter. Hoyer finished the game 6 of 14 for 92 yards. Manziel ended his night 7 of 11 for 63 yards and was also the Browns' leading rusher with 27 yards in the 13-12 loss to the Lions. 
Pettine said on Wednesday that Manziel's been 'impressive,' but he also denied a report that suggested Johnny Football had moved ahead of Hoyer to the top of the depth chart. 
"He's been impressive. He's probably slightly ahead of the learning curve where we figured he would've been," Pettine said. "I think a big part of it for him is it's essentially him getting the playbook and it has been for a while. And I think he's finally starting to settle down with it."
According to Pettine, a quarterback battle is a good problem to have: "I think it's a good problem -- I know it's a good problem to have because we have two quarterbacks we feel are capable enough to make plays to win football games," Pettine said.
Although Hoyer will start vs. the Redskins on Monday Night Football, both quarterbacks are expected to get equal reps with the ones as Pettine mentioned. 
The game against Washington could go a long way toward determining who wins the starting job. Pettine has said all along that he would like to name a starter before the Browns' third preseason game. 
If Pettine sticks to that timeline, that will give the Browns coach just five days to name a starting quarterback after the Redskins game. The Browns' third preseason game is Aug. 23 at home against St. Louis. 
This young fan wins Thanksgiving

Pete Robertson ran a downed punt into the end zone, costing his team 13 yards

The Chargers are finally looking like a playoff team after a 28-6 win over the Cowboys on...
The Vikings, led by Case Keenum, are one of the NFL's best teams

The Vikings' pass rusher revealed the latest addition to the family after sacking Matthew...

It's time to hook up that jersey of your favorite NBA player with some Black Friday deals