Pettine: Johnny Manziel to start, needs to put Browns in position to win
Johnny Manziel is expected to start the final four games of the season for the Browns, including Week 14's matchup with the 49ers.
• 1 min read
It's official now: Johnny Manziel is on longer stuck in detention. The Browns are turning to Manziel as their starting quarterback.
Head coach Mike Pettine announced the decision Tuesday, a day after ESPN reported the same news.
"Johnny will be our starting quarterback on Sunday," Pettine said, via the team's website. "He's been solid in the building over the last couple of weeks and we are hopeful he takes this opportunity to continue to build on the progress he's made on the field throughout the season."
The decision also came on the heels of Pettine's other announcement -- that the Browns' organization isn't completely unified. Though Pettine didn't offer specifics regarding any internal disagreements, his handling of Manziel could be an issue. CBS Sports NFL Insider Jason La Canfora has previously reported that ownership wants to see Manziel start while the coaching staff, seemingly until now, has not.
Now, Manziel's trial begins. With four games left in the season, Manziel has a chance to prove himself as the Browns' quarterback of the future. If he falters, the Browns could move on from their former first-round pick. After all, the Browns are in position to earn the No. 1 overall pick in the 2016 draft.
"The goal for every game is to go out and win," Pettine said, "and Johnny needs to show that he can put us in position to do so during these last four weeks of the season."
Though he has continued to struggle with issues away from the field, Manziel has already shown considerable improvements on the field when given the chance to play. Against the Steelers on Nov. 15, Manziel completed 73 percent of his passes for 372 yards. On the season, Manziel has completed 59 percent of his passes, averaged 7.3 yards per attempt and thrown five touchdowns and two interceptions.
On Sunday, Manziel faces the 49ers -- a favorable matchup given the 49ers surrender nearly 270 passing yards per game.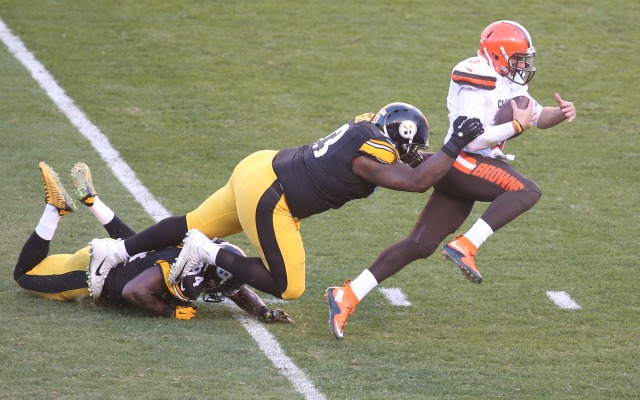 Alex Van Pelt didn't specify whether Dalton could be Joe Flacco-level elite, however

Things don't change in the alternate universe where Wentz stays healthy as far as Pederson...

Khalil Mack, Aaron Donald and Odell Beckham top list, with $20M per year non-QB on the hor...
The future Hall of Fame kicker will be back in the saddle for another year with Indianapol...

As it turns out, finding an immediate impact first-round wide receiver is a lot harder than...

March 14 is coming up pretty quickly and the Saints have to hurry up and sign Drew Brees