Pettine says he might know about Browns job by Wednesday night
The hiring of a new Browns coach seems to be drawing closer.
• 1 min read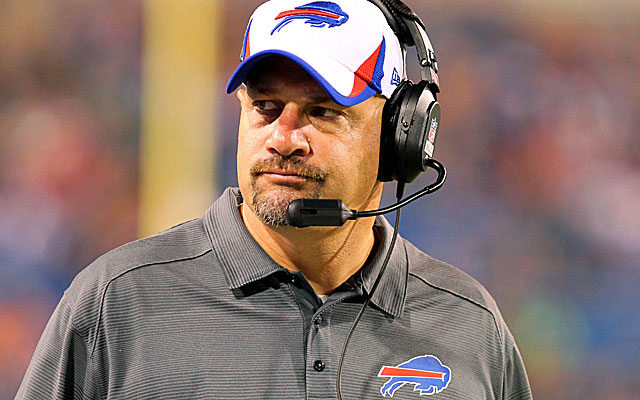 The Browns were one of the first teams to fire their head coach once the season ended. And, by far, they're the last to hire someone, particularly since the list of those who have withdrawn their names from consideration is growing longer and more distinguished by the day.
But we might hear something on that front soon, according to the man who appears now to be the front-runner for the job.
Bills defensive coordinator Mike Pettine on Wednesday told cleveland.com that he might hear something about the job by Wednesday evening.
"I should have some feedback on my interview by the end of the day," he said.
Pettine currently is in Mobile, Ala., for the Senior Bowl, and he reportedly had his second interview with the Browns brass on Tuesday night.  
The Browns also interviewed Falcons offensive coordinator Dirk Koetter, but he's considered a longshot to land the job. Otherwise, the team still is interested in interviewing Seahawks defensive coordinator Dan Quinn, but the Browns can't talk to him until after the Super Bowl. Already this week, Broncos offensive coordinator Adam Gase, before he could even chat with the Browns, took himself out of consideration for the job.
How a Pettine hire would make the team feel is unknowable at this point, but after Rob Chudzinski was fired after just 16 games at the helm, former linebacker Scott Fujita let us know about theirits mindset.
"I talked to some of the players right after they fired Chud and they sounded deflated, confused and frankly embarrassed by what happened," Fujita said. "I've been out of football for a year now and I'm a fan of the Cleveland Browns. It's hard to watch what is going on there. I really feel bad for the fans and players like D'Qwell (Jackson) and Joe Thomas who have been there for so long. ...
"Right now, it seems like they are a rudderless ship," Fujita said. "(CEO) Joe Banner does not have the best reputation with some players and coaches. It makes you wonder if there will be a trickle-down effect."
Follow Josh Katzowitz on Google+
A backlog of worthy receivers and lack of dominance may keep Boldin out, at least for a wh...

The commissioner's current deal runs through 2019

The Panthers star says his concussion issues are behind him and that he knows only one way...
One of the Steelers best players continues to hold out

Dave Richard helps us determine Fantasy football's biggest August draft decision

The Steelers beat the Falcons while the Saints topped the Chargers