Peyton Manning: All you need to know about his historically great career
From the Manning Faces to his Super Bowl win to his countless records, here's everything you need to know about Peyton Manning ahead of Super Bowl 50.
• 6 min read
Peyton Manning is 39 years old and he's playing in the Super Bowl. Peyton Manning, the No. 1 overall pick in the 1998 NFL Draft, the same guy who admitted before the season he can't feel his fingertips, is one of two quarterbacks still standing. It's something you'll hear all week in the buildup to Super Bowl 50 -- after all Manning, is set to become the oldest quarterback to start in the Super Bowl, fittingly passing his boss John Elway.
Is this Manning's "last rodeo?" If it is, can he go out as a winner and, in the process, completely change the narrative that's working against him? If he does, is Manning the greatest quarterback of all time?
They're all legitimate questions. We very well might be days away from Manning's final game. If he does win his second Super Bowl ring, he will be looked at in a completely different light -- no longer will he be known as simply one of the greatest regular-season quarterbacks of all time, he'll be one of the greatest quarterbacks of all time with two rings.
With Manning's career seemingly coming to a close, let's take a look back on his 18-year run, from the records and the milestones and the can't-miss moments, to all of those brilliant Manning faces he gave us while quarterbacking the Colts and Broncos.
Records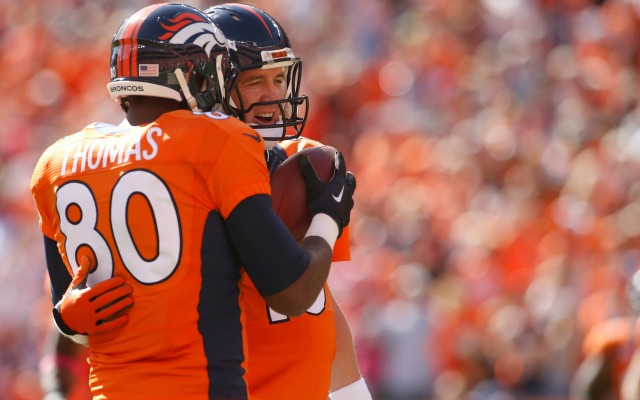 Here's why Manning is in conversation for the greatest quarterback ever: He has thrown for the most yards and touchdowns in NFL history, he's second in completions, fifth in passer rating, third in passing yards per game, fourth in completion percentage and first in game-winning drives. Got all of that?
Look, listing out all of Manning's records and milestones at this point is a tedious task. So, let's go to the bullet points.
Career records:
Passing yards: 71,940 (first)

Passing touchdowns: 539 (first)

Completions: 6,125 (second)

Passer rating: 96.5 (fifth)

Passing yards per game: 270.5 (third)

Completion percentage: 65.3 (tied fourth)

Game-winning drives since 1960: 56 (first)

Quarterback wins (regular season and playoffs): 199 (tied first)
Single-season records:
Completions: 450 in 2010 and 2013 (third)

Yards: 5,477 in 2013 (first)

Passing touchdowns: 55 in 2013 (first)

Passer rating: 121.1 in 2004 (second)

Passing yards per game: 342.3 in 2013 (tied first)
Single-game records
Passing touchdowns: 7 on Sept. 5, 2013 (tied first)
All stats via Pro Football Reference.
Awards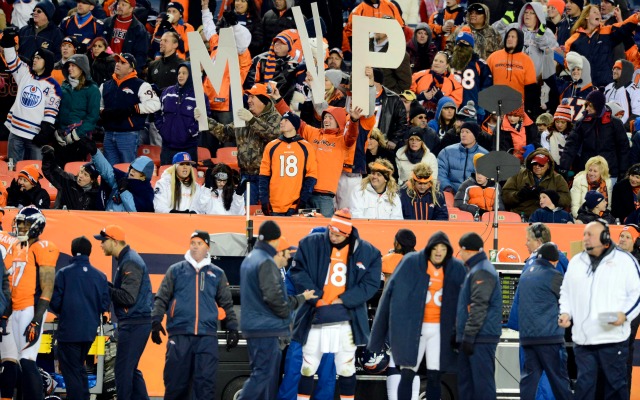 So, on top of all those stats, Manning has brought home more than his fair share of hardware. The most important award: MVP. Yeah, he has won NFL MVP five times.
Again, let's go to the bullet points:
14-time Pro Bowl selection

7-time First-Team All-Pro

5-time MVP

2-time Offensive Player of the Year

Super Bowl XLI MVP

2012 Comeback Player of the Year

2005 Walter Payton Man of the Year
Peyton being Peyton: Memorable moments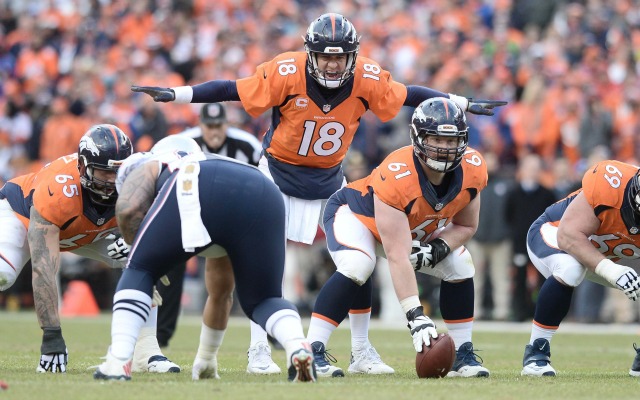 There just aren't any other quarterbacks like Peyton. Not because of his physical attributes or his statistics. It's more about how he plays quarterback before the ball is snapped. We all know about Omaha by now, but that's not the only strange word that flies from his mouth.
Case in point ...
There's a reason why Manning is able to play the role of field general and playcaller. He's just a tad obsessive when it comes to studying. In December 2013, a strange photo emerged, showing Manning studying in a Broncos hot tub while wearing a helmet so that he could listen to offensive coordinator Adam Gase call plays.
This is peak Manning ...
Only Peyton Manning would wear a helmet in a hot tub… pic.twitter.com/Inj5VVJkLB

— Chris Gulan (@cgulan15) December 12, 2013
Actually, this anecdote might be even better. When Manning threw his 509th touchdown pass last season, breaking Brett Favre's record, he strolled over to the end zone to retrieve the ball from his teammates. But instead of handing the ball over to Manning, the wide receivers tossed the ball around while a frantic Manning chased after it.
Pretty great moment, right?
It definitely seemed pretty great, right up until Demaryius Thomas revealed that Manning told them ahead of time to play keep away from him. In typical fashion, Manning orchestrated the entire thing -- from the touchdown to the celebration.
His high expectations also led to a few memorable clashes with his teammates.
Exhibit A: "Quit calling the [expletive] plays"
Exhibit B: My personal favorite, "[Expletive] Donald"
(Warning: Video below contains NSFW language)
When he's not obsessing over the playbook and film, he's singing (or at least trying to) on TV ...
And making Manning-Faces.
Peyton Manning face pic.twitter.com/ZTDmDVKO40

— arcusD (@_MarcusD_) January 24, 2016
He even has his own emoji.
uncanny. pic.twitter.com/T7NCzFcDt6

— Sean Wagner-McGough (@seanjwagner) October 30, 2015
But sandwiched in between all of those moments is the serious stuff. Like, when he won his only Super Bowl with the Colts, throwing for 247 yards and a touchdown in the win ... 
Or when he threw for the most yards and touchdowns in a single season in NFL history ... 
Or when he broke Favre's record for the most passing yards in NFL history earlier this season, which led to Favre congratulating Manning from a tree somewhere, because it's Brett Favre ... 
But later in that game, Manning was benched for Brock Osweiler, providing a clear signal that this might be it for Manning. Despite playing in 10 regular-season games, Manning nearly led the league in picks and he accumulated a 67.9 passer rating.
After 18 seasons in the league, Manning limps into Super Bowl 50 on the back of his defense, hoping to ride off into the sunset with another ring on his hand.
Super Bowl 50: What's at stake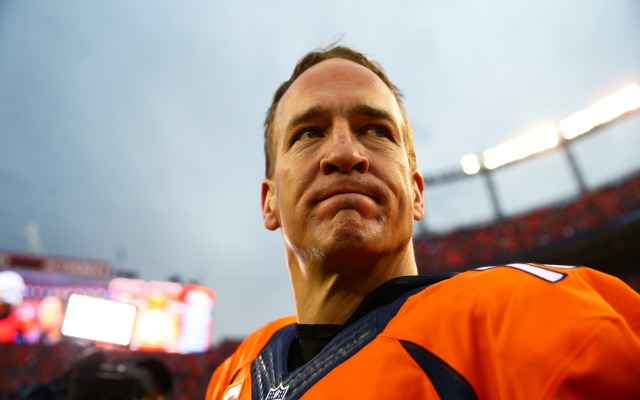 Let's be clear: Peyton Manning shouldn't need to win another Super Bowl to be in the conversation for the greatest quarterback ever. This Broncos run isn't even about Manning, it's about their defense, which led the league in total defense and finished fourth in total points allowed, and stymied Ben Roethlisberger and Tom Brady in two playoff games. This time, Peyton's just along for the ride, doing his best to manage the game by not turning the ball over and not putting his defense in bad positions on the field.
But because it's Manning, because this might his final game, because of the narrative working against him, this game matters perhaps more than any other game in his career. To this point, Manning has been branded as a quarterback who can't win the big game, despite the fact that he has already won a Super Bowl and boasts pretty much the exact same passer rating in the playoffs as Tom Brady, who's known as one of the greatest clutch and postseason performers ever. If Manning helps guide the Broncos to a win on Feb. 7 in Santa Clara, California, that interception he threw to Tracy Porter, which doomed the Colts in Super Bowl XLIV, won't matter so much anymore. Neither will the Broncos' utter failure against the Seahawks two years ago.
And how's this for one final footnote: If Manning and the Broncos win, Manning will not only pass Favre for the most quarterback wins in NFL history with 200, but he'll finally own a winning record in the postseason and become the first starting quarterback to win a Super Bowl with two different teams.
Wouldn't be the worst sendoff for The Sheriff.
They don't wanna see you ride off into the sunset !! Lol quick sketch I did #peyton #manning #nfl #broncos pic.twitter.com/rbJogvQBKc

— Ralphy (@ilovemondays__) January 27, 2016
Pick Six Newsletter
Get the day's big stories + fun stuff you love like mock drafts, picks and power rankings.
Please check the opt-in box to acknowledge that you would like to subscribe.
Thanks for signing up!
Keep an eye on your inbox for the latest sports news.
Sorry!
There was an error processing your subscription.
The Steelers cornerback expects the AFC North to be competitive in 2019

Cincy was plagued by injuries last season and finished with six wins

Could Metcalf be one of the biggest steals of the draft?
Zach Ertz gives two reasons why the USWNT blowout win over Thailand wasn't bad for soccer

The Patriots coach is apparently a ruthless paintball player

Russell Wilson and Aaron Rodgers made a lot of money over the past 12 months