Peyton Manning has no comment on remarks made by Irsay or Fox
Peyton Manning didn't have much to say on Wednesday when he was asked about the feud between Broncos coach John Fox and Colts owner Jim Irsay.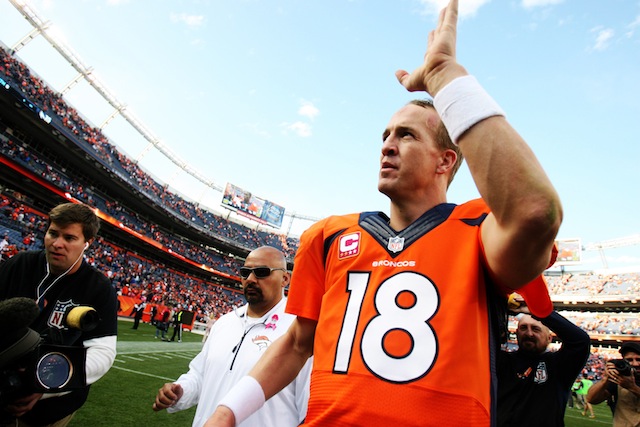 Peyton Manning refused to get involved in the controversy stirred up by Colts owner Jim Irsay. Earlier this week, Irsay defended his decision to dump Manning and basically said he was disappointed he only won one Super Bowl with him. Irsay felt the team should've won more.
Broncos coach John Fox wasn't thrilled with Irsay's comments and said on Tuesday that Irsay sounded 'ungrateful and unappreciative' of his time with Manning.
During a conference call with Indy reporters on Wednesday, Manning was asked about the war of words between Irsay and Broncos coach John Fox and he decided not to get involved,  "I don't have anything to say about either one of those," Manning said.
Manning also didn't offer anything when he was asked to comment about his current relationship with Irsay, "No, I can't and I won't," Manning said. 
Over the the past three days, Manning is one of the few people that has refused to comment on Irsay's remarks. Former Colts coach Tony Dungy, former Colts general manager Bill Polian and even Brett Favre have all had something to say about Irsay's comments or Manning's return to Indianapolis. 
The Broncos trip to Indy on Sunday will be Manning's first time back to Lucas Oil Stadium since signing with the Broncos in 2012. Led by Manning's 2,179 passing yards and 22 touchdown passes, the Broncos are off to a 6-0 start for the first time since 2009. 
The Vikings become the first team to play in a Super Bowl held in their home stadium

R.J. White, who nearly won the Las Vegas SuperContest, locks in his pick for the NFC Championship...

Everything you need to know about the AFC and NFC title games
The Patriots are looking to win back-to-back Super Bowls but will have to take out the surprising...

Gronk is one of the toughest players to defend in the NFL, so how will the Jaguars handle...

CBS All Access allows viewers to stream every NFL game on CBS in their local market