Peyton Manning not happy that Eagles get 10 days of rest
Peyton Manning isn't happy that the Eagles will be coming off a 10-day rest before facing the Broncos on Sunday. Especially since the Broncos are on a short week after playing on Monday night.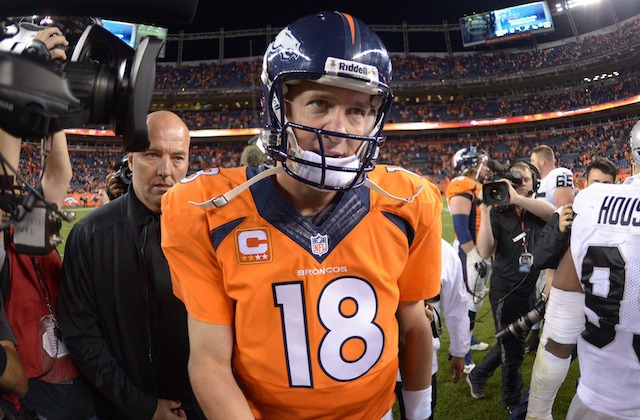 Peyton Manning doesn't usually complain about much, but he has at least one gripe heading into the Broncos Week 4 game against the Eagles. Manning isn't happy that Philadelphia's coming off a Thursday night game and 10 days of rest while the Broncos will be coming off a Monday night game and only six days of rest.
"We're coming off of a short week -- it's nice of the NFL to give Philly [10] days and give us six," Manning said on Monday, via CSNPhilly.com. "So we've got to handle that. We've still got some guys injured. So we've got to get some new guys playing. We're trying to kind of weather that storm with our injuries. We've got to get ready for an unfamiliar opponent who has got a really good team at home next Sunday."
Manning probably shouldn't look to Eagles coach Chip Kelly for any sympathy, because he won't get any. The Eagles were the only team in the NFL that had to play their first three games in a span of 11 days.
"We played three games in 11 days," Kelly said on Tuesday. "We don't control the schedule.  We only carry about what we can control."
Rest will probably be an important thing in this game, at least for the defenses. Going into Week 4, the Broncos and Eagles have the No. 1 and 2 ranked offenses in the NFL, averaging nearly 1,000 yards a game combined.
The Broncos are averaging 486.7 yards per game and lead the NFL 1,124 total pass yards. The Eagles are averaging 461.7 yards per game and lead the NFL with 627 total rush yards.
The only other team in the NFL besides Denver and Philadelphia that's averaged over 415 yards of offense per game is the Green Bay Packers. The Packers have averaged 454.7 yards of offense per game through three weeks.
Patriots QB's ring, given to one of his friends/family members, was auctioned off to an anonymous...

If the Redskins get petty, Cousins will try and get his vengeance through a grievance

The Dolphins also donated $100,000 to the victims' fund after the school shooting that killed...
The Cardinals GM explains his process for finding Carson Palmer's successor

Stefen Wisniewski narrowly missed out on a chance to earn $250K, but the Eagles gave it to...

Shazier heads into the Steelers' facility every day and helps with 'personnel stuff'