Peyton Manning only QB left in playoffs who wasn't drafted by MLB
Colin Kaepernick, Russell Wilson and Tom Brady all have something in common that they don't share with Peyton Manning: all three quarterbacks were drafted into Major League Baseball.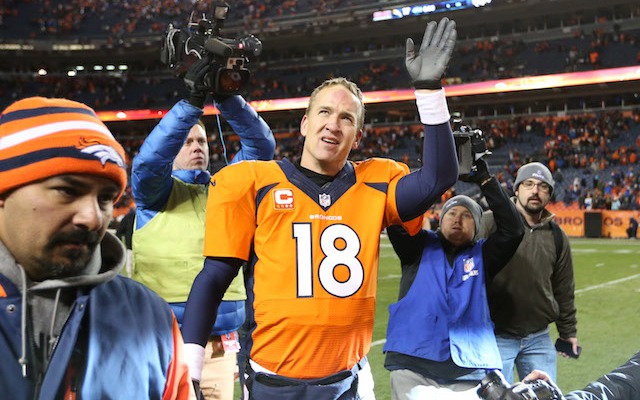 Peyton Manning is arguably the best quarterback left in the playoffs, but he's definitely the worst quarterback when it comes to at least one thing: playing baseball. Of the four starting quarterbacks left in the NFL postseason, Manning is the only one who wasn't drafted by Major League Baseball. 
Lets start with Patriots quarterback Tom Brady. Brady attended the same California high school as Barry Bonds and almost took the same career path as Bonds. In 1995, Brady was taken in the 18th round of the MLB Draft by the Montreal Expos. 
Brady was a catcher who might have actually been drafted higher if not for his football scholarship to Michigan. That scholarship kept Brady from possibly going as high as the fifth-round, according to MLB.com. 
A quarterback who did go as high as the fifth-round is Seattle's Russell Wilson, who was taken in the fourth-round in 2010 by the Rockies. That was actually the second time the second baseman had been drafted. Wilson was also taken in the 41st round of the 2007 MLB draft out of high school. 
As our friends over at Eye on Baseball have pointed out, Wilson actually spent time in the Rockies farm system.
Wilson did sign with the Rockies for $200,000 and yes, he did play in their farm system for a portion of the 2010-11 seasons. He hit .229/.354/.356 with five home runs, 19 stolen bases and 118 strikeouts in 93 Class A games as a second baseman.
Wilson was also selected in MLB's Rule 5 Draft in December, which essentially means the Rangers bought his baseball rights from the Rockies. 
Forty-Niners quarterback Colin Kaepernick was also an MLB Draftee. Kaepernick was selected by the Chicago Cubs in the 43rd round of the 2009 MLB Draft. The Cubs tried to convince the right-handed pitcher to spend some time in their farm system while he was at the University of Nevada, but to no avail. Things probably worked out best for Kaepernick. The 49ers quarterback will be in the NFC title game for the third straight time on Sunday. The Cubs have only played in three NLCS's since 1946. 
Despite being the only quarterback who wasn't drafted into MLB, Manning isn't completely immune from the sports. He did play shortstop in high school.
"I played shortstop," Manning said in April 2012. "I wasn't good enough to stick with it. I love playing. I probably outgrew the position about my senior year. But I love the bus rides. I love the camaraderie. All my receivers played baseball with me. In the summer, we'd go out and play baseball in a summer league, we come back from a game and keep our spikes on and go out and throw. I always kept a football in my bag."
Manning's backup quarterback at Tennessee also went on to have a pretty nice MLB career. That backup? Todd Helton. Helton retired in 2013 after 17 seasons with the Colorado Rockies and was honored by the Broncos in October. 
It sure looks like the former top pick will be benched heading into the regular season for...

Someone asked him to start the press conference of course

Derrick Johnson wants to discuss players' First Amendment rights amidst the protests
High praise from one of the most athletically gifted quarterbacks ever to step on a football...

Nobody will mistake Joe Looney for his star teammates

Osweiler is being benched in favor of DeShone Kizer