Peyton Manning says he's 'pretty sore,' will get MRI on lower leg
After getting hit in the lower leg late in Sunday's game, Peyton Manning is set to undergo an MRI on Monday.
• 1 min read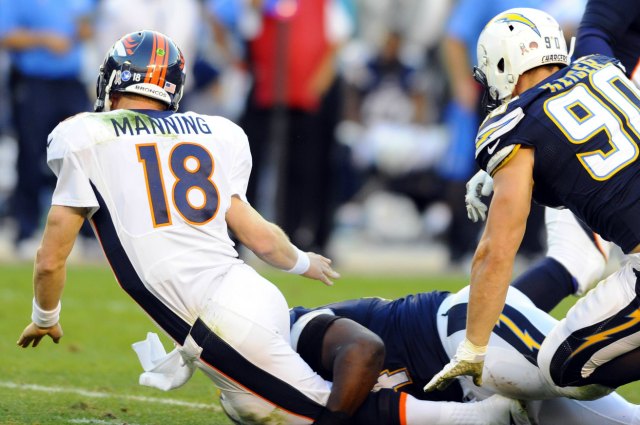 Late in the fourth quarter of the Broncos win vs. the Chargers on Sunday, quarterback Peyton Manning got hit around the knees, and for the rest of the game, an annoyed-looking Manning limped around the field to run out the clock.
He finished the game, but after the 28-20 victory, he told reporters that he would undergo an MRI on Monday.
Peyton Manning: "I'm pretty sore. They kind of got me twice in that lower area...get an MRI tomorrow and will know more then."

— Denver Broncos (@DenverBroncos) November 11, 2013
Obviously, that's not great news, especially with Denver facing off against AFC West division leader Kansas City next week.
But Manning also said this when asked if he thought he'd play in Week 11: "I certainly plan on it."
And if you'd forgotten how effective the somewhat-slumping Broncos offense can be, Manning completed 25 of 36 passes for 340 yards and four touchdowns to beat San Diego.
Follow Josh Katzowitz on Google+
The Saints coach wasn't in the mood to answer questions about Drew Brees on Tuesday

This is footage that you'll definitely want to see

It wasn't the matchup that we expected, but the Jaguars would argue that's everyone else's...
The Eagles quarterback and the Vikings quarterback have paths that have crossed many times

The Bengals quarterback gives his side of one of the craziest stories of the NFL season

There are many confusing issues when it comes to Ben Roethlisberger's future