Peyton Manning sits out Broncos practice with minor ankle injury
Though the speculation really ramped out when it was discovered Peyton Manning wasn't practicing, all seems to be OK now.
• 1 min read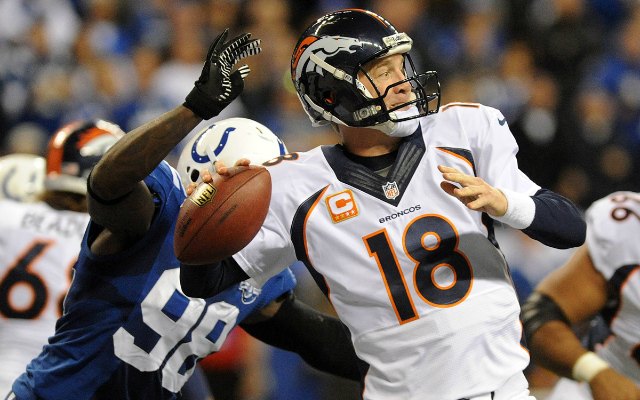 When Denver-area reporters first noticed that Broncos quarterback Peyton Manning wasn't practicing Wednesday, the news set off waves of Twitter-induced panic across the entire NFL-centric internet. There was speculation that the hit put on Manning by Indianapolis' Robert Mathis last Sunday might have affected his arm strength afterward and that perhaps those symptoms bled into this week.
But instead, the Denver Post's Jeff Legwold made it all better with the follow tweet.
Manning has minor ankle injury...espected to practice tomorrow for #Broncos.

— Jeff Legwold (@Jeff_Legwold) October 23, 2013
So, there you go. The arm is still OK. It's just a minor ankle injury that should be all better by Thursday. Nothing to see here and all that.
Unless, that is, you're into conspiracy theories ...
Follow Josh Katzowitz on Google+
Grab some turkey and get ready for this NFC North showdown

SportsLine's top NFL and college football experts pick a 4-team parlay that pays 10/1

After an epic collapse against the Saints, the Redskins are hoping to right the ship
Brice Irvin is not a happy camper right now

Linda Del Rio is not happy with the president

The former New Orleans Saints wideout leads the NFL in 40-yard catches with New England