PGA golfer Steve Elkington makes gay joke about Michael Sam
Lucky for Steve Elkington that he doesn't have to get hit on the football field by Michael Sam.
• 1 min read
More on Elkington: Golfer says tour made him take tweet down
Steve Elkington is a 51-year-old golfer with 10 PGA tour wins and one major title who doesn't mind starting a Twitter war with his colleagues or writing out racially-tinged tweets or publicly commenting on women's breasts.
Oh, and he likes to make jokes about gay football players.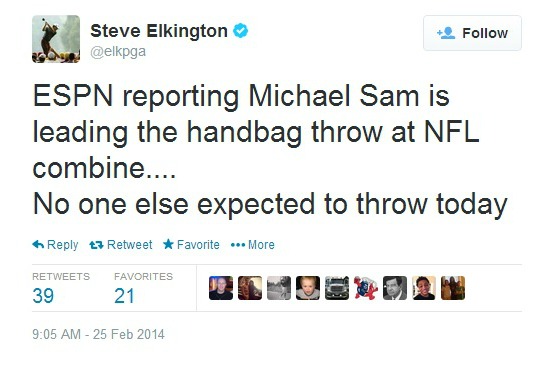 That tweet came after Elkington criticized ESPN for covering Sam so heavily.
ESPN covering Michael Sam as a gay athlete is embarrassing .....

— Steve Elkington (@elkpga) February 25, 2014
So, there you go.
Steve Elkington, homophobic golfer and hacky comedian who perhaps should put down the Twitter for a little while. Because he seems like a jerk when he's on there.
UPDATE (1:43 p.m. ET): Here's Elkington clarifying himself.
@shanebacon I'm for Sam I'm against ESPN telling me he's gay....

— Steve Elkington (@elkpga) February 25, 2014
UPDATE (3:41 p.m. ET): And he just keeps going ...
It goes back to "a ball hit an oriental spectator".There's no oriental spectators..There just spectators.."like m Sam...He's just an athlete

— Steve Elkington (@elkpga) February 25, 2014
Keep in mind: Elkington still told a gay joke that made fun of Sam, the man for whom Elkington is apparently rooting.
New England is 3-0 wearing white in Super Bowls under Bill Belichick

McKinnon is a free-agent and likely behind Dalvin Cook and Latavius Murray in the team's p...

Stephen Oh is 9-2 picking Patriots games and just locked in a strong play for the Super Bo...
Bortles is set to make over $19 million next season but none of it is fully guaranteed

Richard was fired by the Seahawks earlier this offseason

Doug Pederson headlines a staff that hasn't received as much love as it deserves in 2017