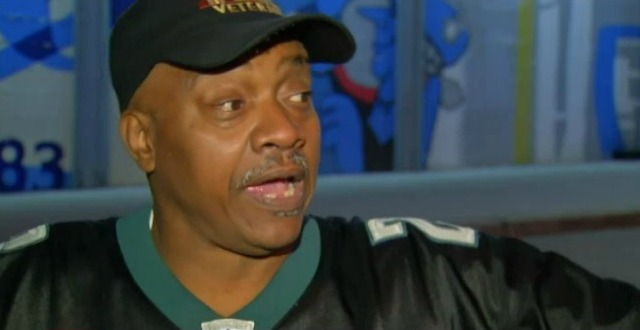 Who steals a street musician's prosthetic leg while the Vietnam veteran plays street music in the parking lot before the Eagles game? An Eagles fan, apparently.
And while that story was a winner on social media late Sunday night -- the overriding theme seemed to be, "OF COURSE it was an Eagles fan!" -- the tale's end is a happy one.
That's because, according to NBC Philadelphia, police have recovered the man's leg.
Sonny Forriest Jr., was singing in a parking lot near Lincoln Financial Field at about 8:30 p.m. ET, and when he got ready to leave by packing his car, he said a group of dancers gathered near him to, I don't know, pay tribute to the leg perhaps.
"There were some friends who were partying with the leg, then they put it back," Forriest Jr. told the TV station.
Then, a person he described as a woman in her 20s in Eagles gear, flat-out took his leg.
"She jumped in my lap," Forriest Jr. said. "She gripped my leg and I didn't even know it. I looked down and she took my leg. Then she disappeared. A young lady came up, snatched my leg off my chair and took off."
Asked how he felt about that, Forriest Jr. said, "It made me feel real low."
The leg eventually was found about 1 a.m. on the SEPTA subway line.
So, Forriest Jr. shouldn't have to sing the blues for the rest of the day. Actually scratch that. Forriest Jr. seemed in good spirits anyway. Especially when he joked that he didn't really have a leg to stand on.