Philadelphia owner Jeffrey Lurie: Eagles need a franchise QB
Eagles owner Jeffrey Lurie wants a franchise quarterback and that player might not be on the roster right now. Lurie said it could be 'somebody we go out and acquire.'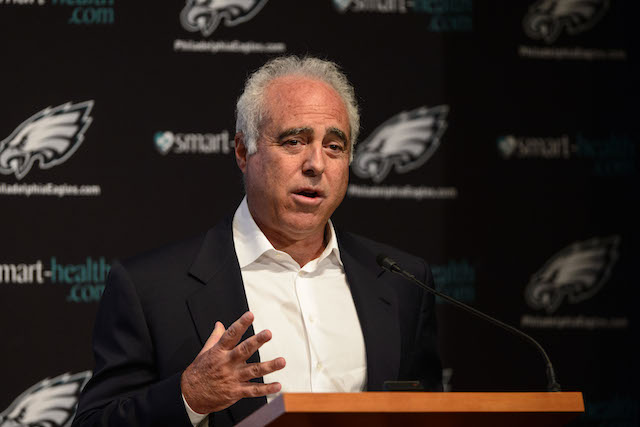 Eagles owner Jeffrey Lurie subscribes to the theory that the fastest way to success in the NFL is to have a franchise quarterback. The only problem is that Lurie's not sure his team has one.
In an interview with CSNPhilly.com this week, Lurie said that finding a quarterback will be the team's  'No. 1 priority' going forward. Lurie also said that future franchise quarterback could be someone that's not currently on the Eagles roster.  
"We need someone to step up, whether it's an existing young quarterback or somebody we go out and acquire," Lurie said. "We know -- this is no secret -- quarterback is the [ultimate] position and the most important difference-maker."
The Eagles have started two quarterbacks this season in Michael Vick and Nick Foles. The team also drafted Matt Barkley in the fourth round of the 2013 draft, but that doesn't necessarily mean any of those three are the answer. 
"Time will tell," Lurie said. "I think it's really wide open for those that are on the team and it's wide open for what our strategy might be if we don't have it. But it's a No. 1 priority. We've got to solidify that position in a really good way."
Due to his age and injury history, Lurie knows the 33-year-old Vick probably isn't the answer at quarterback, but that doesn't mean Foles can't be. 
"We want to have very healthy, high ability at that position, with excellent leadership and a lot of smarts and a lot of moxie. Someone that really can take that position and run with it," Lurie said. "And so Nick is going to have a great opportunity to showcase what he's done. He's had some outstanding games and he's had one poor game."
In two starts this season, Foles is 1-1 and he also led the Eagles to a Week 5 win over the Giants after Vick went down with an injury in the second quarter. Foles will make his third start of the season on Sunday in Oakland. 
"He's going to have an opportunity now to show us all," Lurie said. "We just have to be supportive. I hope the players around him protect him well so we can see him flourish, and [to] know what we have going forward would be great."
If the Eagles decide their future franchise quarterback isn't currently on the roster, it wouldn't be surprising to see them go after someone in the 2014 draft. If Oregon quarterback Marcus Mariota decides to enter the draft, it wouldn't be surprising at all to see Chip Kelly go after his former player. 
The winner of Sunday's game will he headed for Super Bowl LII

SportsLine's Mike McClure, a DFS pro with more than $1M in winnings, gives optimal lineup...

Super Bowl tattoos are never a good idea until your team has actually won the Super Bowl
A couple of dogs emerge victorious in the Conference Championship round

Our computer model simulated the AFC and NFC title games 10,000 times with surprising resu...

If the past 18 weeks are any indication, Tom Brady could be in trouble Sunday