PHOTO: 5-0 Chiefs have 99 problems, but losing ain't one
Two Kansas City fans showed up at the Chiefs game on Sunday with jerseys that any in-love couple should think about purchasing.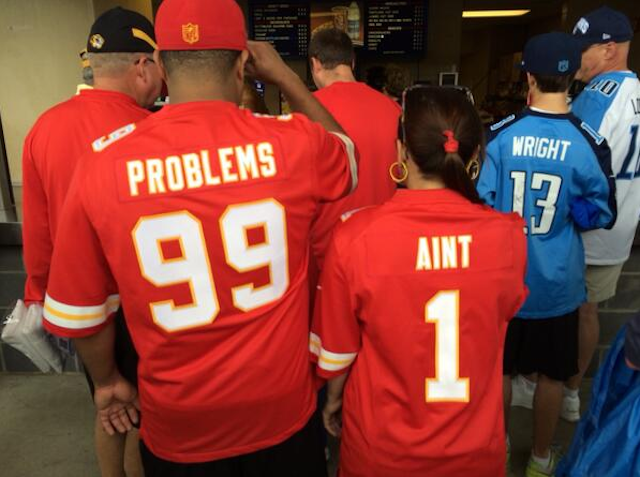 Despite what the headline says, the Kansas City Chiefs don't seem to have any problems right now, at least not 99 of them. Thanks to Kansas City's 26-17 win over Tennessee, the Chiefs are now the first team in NFL history to start a season 5-0 after winning two or fewer games in the previous season. 
It's not just the Chiefs that are resurgent this year either, it's their fans too. As you can see, they brought their 'A' game on Sunday. Titans fans showed up to LP Field in Nashville wearing boring Kendall Wright jerseys, not Chiefs fans though, they showed up in style. We're talking Jay-Z '99 Problems' style. 
Sure, you could argue this was pretty much a complete waste of $300, but those jerseys are probably great conversation starters. The hoop earring probably are too.
(Wink of the CBS Eye to @JoelHerring on Twitter)
The NFL could be in for a historic day on Sunday in the wake of Trump's remarks

Robert Kraft was 'deeply disappointed' in comments made by Donald Trump

Everything you need to know heading into Week 1 is right here
The Raiders are preparing in case their Vegas stadium is not ready by the 2020 season

'You really can't blame him,' one team source said. 'He hasn't really had any holes to run...

Evans has two years left on his deal and is a franchise tag candidate after that if no deal...