PHOTO: Aaron Hernandez is Mr. July in Florida Gators calendar
Former Florida Gators tight end Aaron Hernandez is Mr. July in 2014 calendar licensed by the school.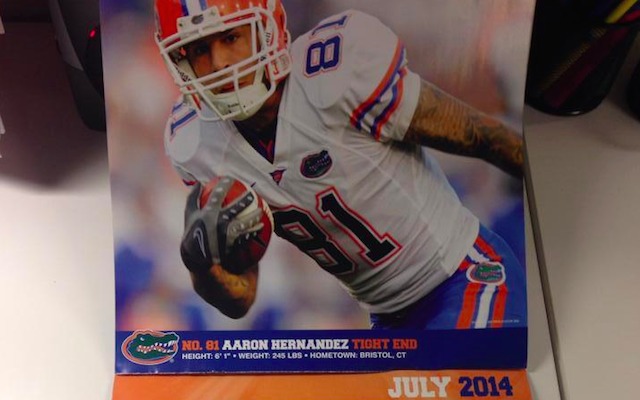 Aaron Hernandez might be in jail, but he'll also be somewhere else this month: In the homes of thousands of Florida Gator fans. Well, Hernandez won't technically be in the homes, but his picture will. 
The former Gators tight end is the July cover boy for a 2014 sports calendar licensed by the school. If you're wondering how an accused killer ended up on a 2014 calendar, school spokesman Daniel Apple has the answer. 
Apple told the Associated Press that the calendar was approved months before Hernandez was charged with murder in June 2013. 
Hernandez didn't just end up in the Gators calendar either, he also makes an appearance in a Patriots 2014 calendar produced by Turner Licensing, the same company that made the Florida calendar. Both calendars were available on Target.com until being taken down on Wednesday morning.
Aaron Hernandez is not only in the 2014 Florida Gators calendar, but also the @Patriots (h/t @FragnificentKW) pic.twitter.com/D0Wb4W9b1W

— Billy Corben (@BillyCorben) July 2, 2014
If you own a Hernandez calendar and you don't want to stare at Hernandez for the entire month, you really only have one option. 
So my Dad ripped out the Aaron Hernandez page of the calendar... pic.twitter.com/hZL1AMjnXY

— Jack Russell (@jacksonrus04) July 2, 2014
The government shutdown has come at a horrible time for NFL fans in the U.S. military

Bengals owner Mike Brown seems to be a huge fan of continuity

Our computer model simulated the AFC and NFC title games 10,000 times with surprising resu...
The people of Philadelphia now have two reasons to root for the Eagles this week

You might not recognize the Patriots' defensive coordinator without his beard

T.O. definitely isn't a fan of the Cowboys head coach