PHOTO: Bills fan shows off huge O.J. Simpson mugshot tattoo
Some people are O.J. Simpson fans. One supposed Bills fan, though, has taken it to a new level with an enormous tattoo of his mug shot.
• 1 min read
Through the early 1990s, nobody would have begrudged you your huge O.J. Simpson man-crush. He had a Hall of Fame career as one of the best running backs in NFL history, he starred in an iconic rental car commercial, and he was decently funny as Leslie Nielsen's sidekick in the Naked Gun movies.
But after the trial of the century in 1994 and then his conviction on armed robbery and kidnapping charges in 2008, you'd probably find it difficult to find such a die-hard Juice fan.
Well, here's what one Simpson fan has done to his body, via sports-kings.com.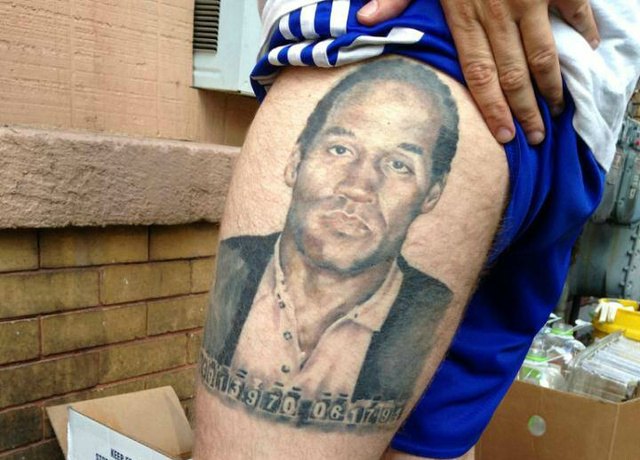 The tattoo is, simply put, incredible. It, of course, showcases Simpson's infamous mugshot following his arrest for the alleged murders of Nicole Simpson and Ronald Goldman -- Simpson was acquitted, though he was later found to be liable for Goldman's death in a civil trial. Plus, its intricacy is pretty darn amazing (at least, it seems that way to my untrained eye).
According to the website, the tattoo took nine hours to be completed. But I was curious about the craftmanship of the tattoo. So, I asked a tattoo artist what he thought about the quality of the work.
"That tattoo is done pretty well as far as portraits go," said Kyle Grover of Old Larimer Street Tattoo in Denver. "It's not exactly something I'd get. You've got to be a die hard fan to get O.J.'s prison mugshot on you."
Lest you think this is just one big joke, the guy pictured above also has a Bills tattoo on his left calf. So, he might legitimately be a huge fan of Simpson, warts and all. And perhaps that's the best kind of fan that you could find. Even if he has questionable taste.
A billionaire owner of the Pittsburgh Steelers is hoping to buy the Carolina Panthers

The crop of free agent offensive linemen just got better

Laurent Duvernay-Tardif might have just made one of the most unique jersey requests in NFL...
The new Raiders coach offered some details on what he wants from Marshawn Lynch

The mystery is over, we finally know what baby Sienna looks like

New York is really pulling out all the stops when it comes to chasing free agent-to-be Kirk...