PHOTO: Bills fan votes for Kiko Alonso to win every public office
Would Bills linebacker Kiko Alonso make a good family court judge? Maybe not, but he got at least one vote for the job in Buffalo on Tuesday.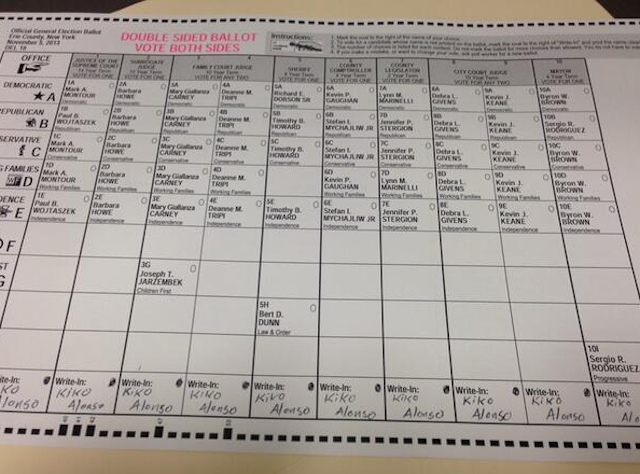 It's Election Day and if you live in Buffalo, that means one thing: It's time to vote for Bills linebacker Kiko Alonso to win every political office in the city.
At least, that's what this guy on Twitter did. He gave Alonso a write-in vote for 10 different public offices on his ballot. 
If this one-man Kiko Alonso campaign takes off, Alonso could be a surrogate judge, a family court judge and a county legislator by the time all the votes are tallied on Tuesday night. Of course, this plan could backfire because if Alonso is too busy trying to work 10 different government jobs, he might not have time to play for the Bills.  
Alonso is also getting votes in Pennsylvania, which doesn't make much sense because I don't think he's eligible for office there. 
It's confirmed #KikoForEverthing has spread to PA!!! 1st confirmed vote for Alonso as tax collector in district 2 pic.twitter.com/u1fQwwLX3G

— #BuffaloBillsRV (@CircleThisWagon) November 5, 2013
The Buffalo news team below was not amused at all with this story. 
(Wink of the CBS Eye to Deadspin and CircleThisWagon on Twitter)
Another day, another costly injury to a Colts starter

The Seahawks defensive end believes someone from 'the other side' needs to step up

Our annual Madden sim is all kinds of crazy, from the Pats not winning the division to a wild...
Madden season is almost here again. Here's everything you need to know.

The youngest coach in NFL history isn't coming off as someone out of his depth -- just the...

Henry is ready to take on a more substantial role in the Titans' run-heavy offense