PHOTO: Bills OL Eric Wood autographs jockstrap for fan
A Bills fan in Ohio had a weird autograph request for offensive lineman Eric Wood.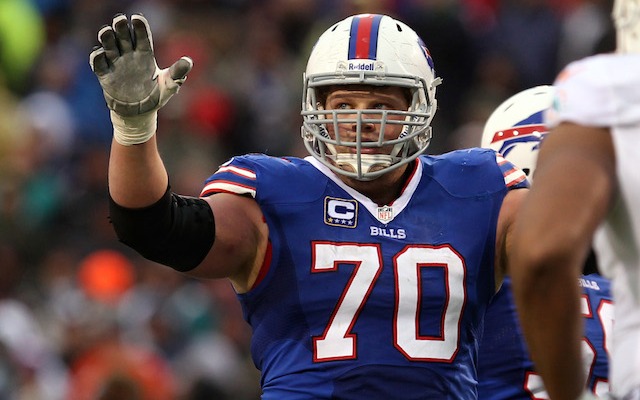 More NFL offseason: Mock Drafts | Prospect Rankings | Pro days | Top free agents
Sometimes you get exactly what the headline promises. This is one of those times. A Buffalo Bills fan in Ohio sent a jock strap to Bills offensive lineman Eric Wood this week asking Wood to autograph it. 
Instead of being freaked out by someone sending a jock strap to him, Wood signed the thing. 
Officially the weirdest autograph request I've got.. pic.twitter.com/Nv4bF1itTH

— Eric Wood (@EWood70) April 17, 2014
Is it weirder that Wood autographed the jock strap or that someone sent it to him in the first place?
That's not all either, Wood now wants his fans to top the jock strap and send him something crazier. He also answers the obvious question: Did he autograph a used jockstrap?
For all those asking 1) the jock was fresh out of the box 2) was for the "biggest Bills fan in Ohio" 3) I would love to see someone do...

— Eric Wood (@EWood70) April 17, 2014
Something crazier. Just send anything to be signed to Bills address at my attention with return shipping. Nothing inappropriate or uncleanly

— Eric Wood (@EWood70) April 17, 2014
I will tweet pics of anyone who tops the jock strap. Include your twitter name in the box and I'll take you in it

— Eric Wood (@EWood70) April 17, 2014
I'm going to send him my couch because I've always wanted my couch signed by an NFL player. I feel like it would really bring my living room together. 
Check out the uniforms that Kansas City and Oakland will be wearing on Thursday

Cliff Avril's NFL career might be over

Oct. 18 is a very special day in NFL lore
The Falcons should not be making any plans for Minnesota in February

The Colts star quarterback could end up missing the entire 2017 season

Not even two Super Bowl wins is enough to get Eli Manning any respect