PHOTO: Cardinals create prototype foam finger for Rashad Johnson
Arizona Cardinals safety Rashad Johnson lost part of his finger on Sunday, so the Cardinals created a prototype foam finger in his honor.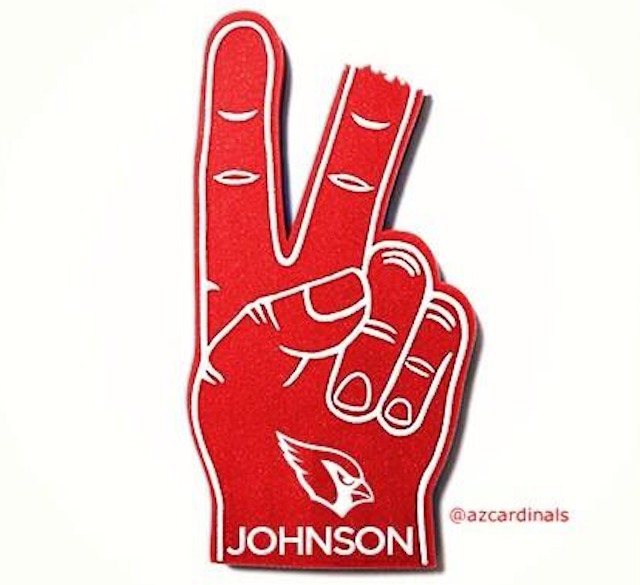 Arizona Cardinals safety Rashad Johnson suffered a gruesome injury against the Saints on Sunday: he lost the tip of his finger.  
It's all fun and games in the NFL until someone loses a finger, but since Johnson didn't lose his finger, he only lost the tip, it's still fun and games in Arizona. The Cardinals Twitter page had a little fun with Johnson's injury on Tuesday when it tweeted out the picture above: a prototype foam finger for Johnson's fans.
How could you not want to buy that?
The Cardinals aren't actually going to make the foam finger, but they should because everyone, everywhere would buy one. 
The foam finger's nice, but that's only the second most interesting Johnson-related tweet that's been sent out this week. Johnson tweeted out a picture of his finger on Monday, which you can see here. Before you click: Keep in mind that if you've eaten in the past 12 hours, you may not want to see the photos, because THEY'RE OF A MAN'S MISSING FINGERTIP. 
It doesn't matter if he was a special teams player, Hester was the best player at his position...

There are apparently some people within the Packers who are worried about him playing

Reports of Tom Brady's demise are premature
Emory Hunt has his finger on the pulse of the Boys and locked in a strong pick for 'Sunday...

Larry Hartstein has his finger on the pulse of the Bears and has a strong pick for Bears-Lions...

The Pittsburgh linebacker was placed on injured reserve Tuesday