PHOTO: Chad Johnson hugs ref after first CFL touchdown
Chad Johnson has a new touchdown dance: The hug-a-ref.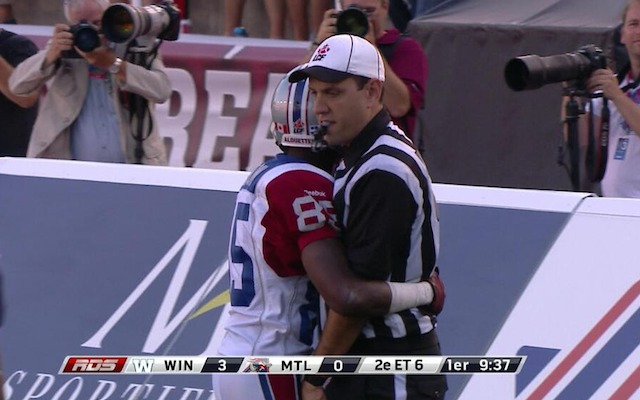 During his 11 seasons in the NFL, former Bengals and Patriots wide receiver Chad Johnson was known for his touchdown celebrations.
While he was in Cincinnati, the man formerly known as Ochocinco once pulled off a Riverdance, he wore a jacket that said 'Future Hall of Famer,' he proposed to a cheerleader -- and he even wrote a homemade note on poster board asking the NFL not to to fine him. 
@ochocinco my favorite touchdown celebration of yours. pic.twitter.com/tejHS5hZ

— Hayden White (@HaydenAlxander) February 12, 2013
So what did Johnson do for his first touchdown in Canada?
He invented a new celebration. The hug-a-ref. 
Johnson's first CFL score came on a 46-yard touchdown pass from former Heisman Trophy winner Troy Smith. The score gave Johnson's Montreal Alouettes an early 7-3 lead over the Winnipeg Bombers.  
You can see video of the touchdown here. However, unless you speak French, you probably won't understand what the announcers are saying.  
The end zone just hit 85 degrees. Touchdown @ochocinco! His first #CFL TD is a 46-yarder from Troy Smith. MTL 7 WPG 3. #WPGvsMTL #Alouettes

— Montreal Alouettes (@MTLAlouettes) July 11, 2014
Cord-cutters are probably going to like this new deal between the NFL and Verizon

Savage left the game before returning after just one series

Quinton Jefferson explains why things got ugly in Jacksonville
The Eagles lose their franchise quarterback with the playoffs just weeks away

The Packers cornerback held Gordon to one catch on Sunday

Colin Kaepernick, Josh Johnson and Matt McGloin are among the bigger names available