PHOTO: Dan Marino visits pal Jim Kelly in the hospital
Dan Marino and Jim Kelly hung out together recently, and the moment was captured by a camera.
• 1 min read
As Hall of Fame quarterback Jim Kelly battles cancer for the second time in less than a year, many NFL officials and players have sent their respect and love to the former Bills star.
And at some point, one of his fellow Draft Class of 1983ers (and a fellow Hall of Famer) paid his respects in person. As posted Thursday on Instagram by Kelly's wife, Jill, when Dan Marino came to visit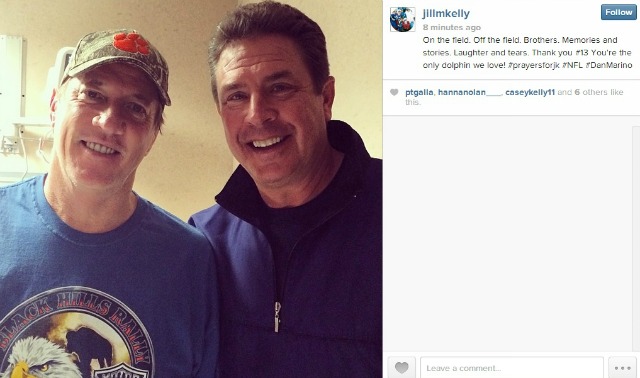 In the caption, Jill Kelly wrote, "On the field. Off the field. Brothers. Memories and stories. Laughter and tears. Thank you #13 You're the only dolphin we love! #prayersforjk #NFL #DanMarino"
Kelly had been scheduled for surgery last week, but doctors determined that the procedure would not eradicate the cancer. Instead, Kelly will undergo chemotherapy and radiation treatments next week.
Last weekend, theMMQB.com's Peter King read 15-20 get-well tweets to Kelly, who said in response:
"Humbling. Humbling. I had no idea. I mean, I don't do Twitter, Instagram, Facebook, whatever. But they tell me about it. There's a lot of 'Get well, Jim Kelly,' out there, and I am so appreciative of that. I really don't know what to say."
Forget being the highest paid receiver, Odell Beckham has loftier goals for his next contr...

There was a Rolls-Royce at Steelers training camp, but no Le'Veon Bell

'It ain't about 2016 and it ain't about 2018. It's about 2017,' Doug Williams told his qua...
Philip Rivers will not be moving to Los Angeles with the Chargers

Bryant has had off-the-field issues keeping him off the field for the past few years

Technically Woody Johnson is the Jets' owner, but on the other hand, Brady does own the Je...