PHOTO: DeSean Jackson at club with Redskins players and Wale
DeSean Jackson spent part of his Monday night hanging out with DeAngelo Hall and Pierre Garcon, two players that could potentially be his future teammates.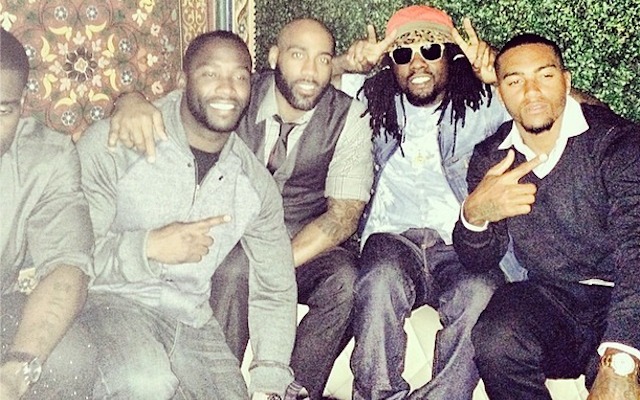 DeSean Jackson's visit to Washington started late Monday when he went out to dinner with Redskins general manager Bruce Allen. That's one way a team will try to recruit a player.
Then there's this way: grab a celebrity and send him out to a club with the player you're trying to sign. The Redskins are using this tactic too. DC-based rapper Wale hit the club on Monday night with Jackson and Redskins players DeAngelo Hall and Pierre Garcon. 
The picture above came from Wale's Instagram page. Did the recruiting work? It's not clear yet. Jackson's agent has spent most of Tuesday afternoon negotiating with the Redskins, but no deal has been signed. However, it does seem like Jackson had a good time.
Desean Jackson, Deangelo Hall, Fred Davis, Wale. @deseanjackson10 POPPED 6 ACE OF SPADE. #MOVIE… http://t.co/AXDMs8gxSZ

— KORRECT CRUZ (@DJKORRECT) April 1, 2014
You can follow the latest Jackson updates by clicking here. 
You might not recognize the Patriots' defensive coordinator without his beard

T.O. definitely isn't a fan of the Cowboys head coach

R.J. White, who nearly won the Vegas SuperContest, locks in his pick for the AFC Championship...
This player probably won't be too popular in New England if the Patriots lose on Sunday

The connections between the Eagles and Vikings quarterbacks are endless

Josh Nagel went 4-1 on Super Bowl prop bets and shares his favorite props for Patriots-Jag...