PHOTO: Dolphins' Richie Incognito doesn't like taxes or rookies
Richie Incognito used to have a sign on his locker that says he hates taxes and rookies.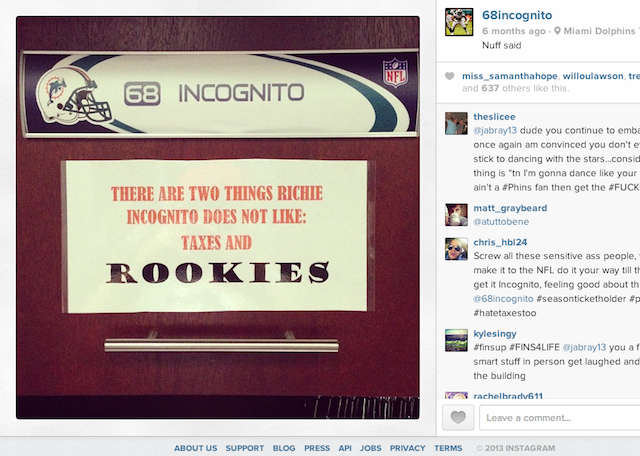 Miami Dolphins offensive lineman Richie Incognito was suspended indefinitely by the team on Sunday for 'conduct detrimental to the team.'
Incognito is believed to have played a major role in Jonathan Martin's decision to leave the team on Oct. 28. There have been allegations of bullying and allegations that the team is hazing the younger players by making them pay for expensive dinners. One report said several young players had to split the tab on a $30,000 dinner. 
Whether or not Incognito's innocent or guilty, one thing seems for sure, he doesn't like rookies. The picture above is from Incognito's Instagram account and it kind of gives you an idea of his reputation on the team. 
The sign on Incognito's locker says: THERE ARE TWO THINGS RICHIE INCOGNITO DOES NOT LIKE: TAXES AND ROOKIES. Next to the picture, Incognito added a comment on Instagram that says 'nuff said.' 
There was also a report that suggested Martin didn't like being called 'Big Weirdo.' That's a nickname Incognito definitely used with Martin at least once. 
@J_Martin71 -- Big weirdo barely fits in the go kart pic.twitter.com/MmqG9H1O4m

— Richie incognito (@68INCOGNITO) April 16, 2013
It wasn't the matchup that we expected, but the Jaguars would argue that's everyone else's...

CBS All Access allows viewers to stream every NFL game on CBS in their local market

This will be Gene Steratore's first Super Bowl as a referee
The Patriots' quarterback and likely MVP appears to be banged up heading into the AFC title...

Kaepernick made the pledge in October 2016 in the middle of his campaign for social equali...

Landry is scheduled to become a free agent this offseason