PHOTO: Fan honors Eli Manning on Peyton Manning jersey
What's the best part about being Peyton Manning? Being Eli Manning's brother.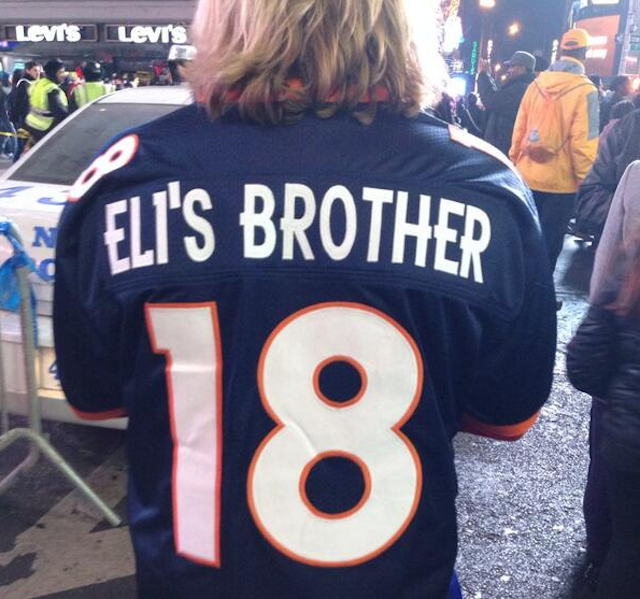 More SB coverage: XLVIII odds | Expert picks | Super Bowl weather | Latest news
There were a lot of Denver Broncos fans wearing Peyton Manning jerseys in and around New York this week, but there was only one fan wearing the jersey above. 
Lets try and figure out this person's thought process real quick. 
"I'm going to spend $125 on an NFL jersey." I get this. 
"I'm a Broncos fan, so I'm going to get a Broncos jersey." This also makes sense.
"Peyton Manning is really good, so I'm going to get No. 18." Very smart move. 
"But everyone has a Peyton Manning jersey, how can I make mine different so that people take pictures of me and write about me? I know, I'll but 'Eli's brother' on the back." This isn't how I would spend $125, but to each their own. 
It's actually the perfect time to own this jersey because the Eli Manning memorabilia market is hot right now. At least when it's not fake memorabilia. 
(Wink of the CBS Eye to SportsBlogNYC)
The NFLPA executive director comes out out firing in a 'Real Sports' segment

Why didn't McCown, the presumed starter, play Saturday? The Jets don't want you to know

The Raiders duo had a great explanation for their decision to stand next to each other
The former Buccaneers kicker did not have things start well for him in Chicago

Bears special teams showed up in a big way against Arizona

Beast Mode got loose with Oakland and looked pretty impressive in the early going