PHOTO: First look at CBS Sports' revamped 'NFL Today' crew
Say hello to James Brown, Boomer Esiason, Bill Cowher, Bart Scott and Tony Gonzalez.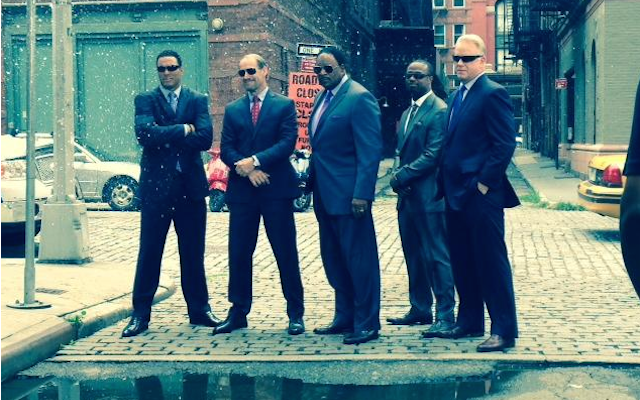 More NFL: Photos |   Videos & GIFs |  Stories | Training Camps | Johnny Manziel watch 
Back in February, CBS Sports announced that Tony Gonzalez and Bart Scott would both be joining The NFL Today for the upcoming 2014 season. 
You probably read those stories from February thinking, "Well, words are great and fun to read, but when can I see a picture of all those handsome guys together?"
The answer to that question is now. 
Newcomers Gonzalez and Scott joined NFL Today mainstays James Brown, Boomer Esiason and Bill Cowher on Tuesday to shoot promos for the 2014 season.  
Things may look cool in the photo above, but apparently things got kind of hot, just ask James Brown and Bart Scott. 
Doesn't look the boys are all that comfortable. #schwetty pic.twitter.com/lSNPjTjBEt

— Boomer Esiason (@7BOOMERESIASON) July 15, 2014
The guys probably won't be wearing sunglasses in the studio, so here's a closer peek of what you'll actually see on Sundays. 
NFLTODAY Promos in NYC today pic.twitter.com/ihn0Qq0lLj

— Boomer Esiason (@7BOOMERESIASON) July 15, 2014
If Thomas is right, that means it's bad news for DeShone Kizer's chances of starting early

The NFLPA denied the accusation and fired right back at the league

The Raiders bangwagon continues to take on passengers ahead of the 2017 season
Madden season is almost here again. Here's everything you need to know.

The Rams' No. 1 pick is anything but fazed after taking his lumps during a brutal rookie s...

Breaux, who emerged as the Saints' No. 1 cornerback during the 2015 season, could miss 4-6...