PHOTO: Here is the list of guns Greg Hardy turned in to police
Police ordered Panthers defensive end Greg Hardy to turn in his firearms. Here's what he owns.
• 1 min read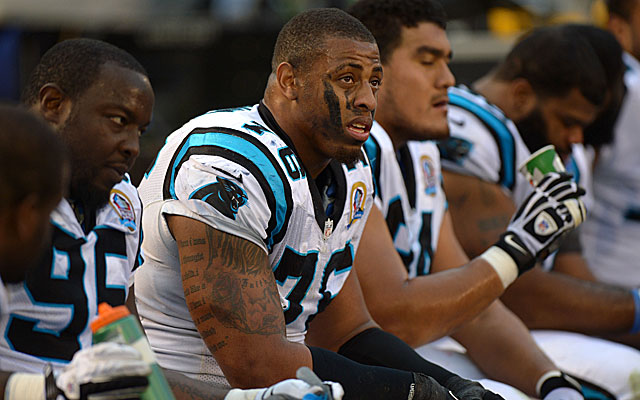 After Panthers defensive end Greg Hardy was arrested this week on a domestic assault charge, it was revealed that alleged victim Nicole Holder accused Hardy at one point of throwing her on a couch covered in guns.
With Hardy ordered by police to turn in his firearms as part of his bond, here's a taste of what he owned.
List of firearms #Panthers DE Greg Hardy turned over to police. pic.twitter.com/vpuEQ5hXT5

— David Newton (@DNewtonespn) May 16, 2014
I'm not a gun guy, so all those letters and numbers don't mean much to me.
But a Mecklenburg County sheriff's spokeswoman told the Charlotte Observer that Hardy turned in nine guns, including six military-type, semi-automatic rifles and three shotguns.
Holder told police that Hardy actually owned between 25-30 guns.
Writes Jason McIntyre of the The Big Lead: "Based on this list, Hardy wasn't the type of guy who would go to the gun range on occasion. He was stockpiling weapons the way some guys collect cars. Maybe Hardy's just a gun enthusiast? As a gun owner, I totally understand the interest in possessing a weapon. But this is a bit much, unless you're robbing a bank or prepping a small army."
If anybody has anything to add or another perspective, I imagine you won't mind expressing your First Amendment rights in the comment box below. 
This might go down as the best ending of the 2017 season

The Raiders beat the Chiefs, 31-30, on Thursday night thanks to Derek Carr's heroics

This was easily the most exciting final 10 seconds of any game in the NFL this season
Everything going the Chiefs way on Thursday Night Football

Beast Mode went Beast Mode on someone he shouldn't have gone Beast Mode on

This is how you do a 99-yard touchdown drive