PHOTO: John Elway, Robert Kraft pose with Jon Bon Jovi
Jon Bon Jovi isn't singing the National Anthem in Denver, but he is at the game and he's hanging out with Patriots owner Robert Kraft.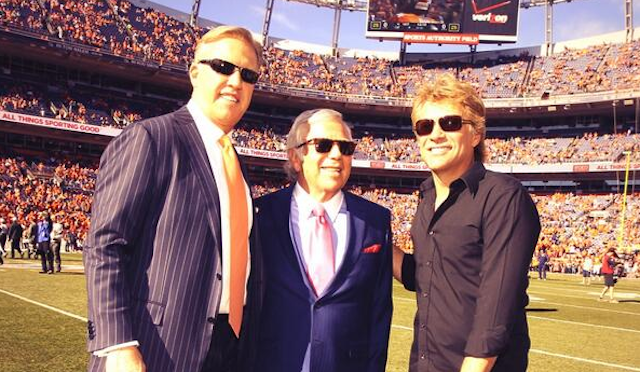 If you were hoping that Jon Bon Jovi would show up at the AFC Championship game in Denver and pose for a picture with Robert Kraft and John Elway, then you're going to like this. 
Bon Jovi's at Sports Authority Field and he took some time during pregame to pose with the Patriots owner and the Broncos executive vice president of football operations. Bon Jovi may be hanging out with Kraft at the game because he wants to see what it's like in the day of an NFL owner. 
CBS Sports NFL Insider Jason La Canfora reported in November that Bon Jovi is interested in buying the Buffalo Bills. Bon Jovi's people confirmed that he's interested in becoming an NFL owner, however, they didn't specifically name the Bills. Bon Jovi is currently the majority owner of the AFL's Philadelphia Soul. 
The study, published on Thursday, found that even at younger levels football can be danger...

The Eagles and Vikings have two of the best defensive fronts in the NFL

Starting left guard Stefen Wisniewski says the Eagles' success is about more than just one...
Kaepernick made the pledge in October 2016 in the middle of his campaign for social equali...

These prospects aren't first-round locks now but could be in for a rise after the Senior B...

Newman was the oldest defensive player in the league to get regular snaps this season