PHOTO: Johnny Manziel and Rob Gronkowski in Las Vegas together
The city of Las Vegas is still standing even though both Johnny Manziel and Rob Gronkowski were in town on Saturday.
Las Vegas didn't burn down on Saturday night, which is actually somewhat surprising because both Johnny Manziel and Rob Gronkowski were in town.
The two took some time out of their busy day to take a picture together, and the picture turned out exactly as you imagined it would: It was Johnny Football, Gronk and 10 girls -- with Gronk and JFF doing Manziel's 'Show me the money' celebration. 
That became the theme for the day for Manziel, who seemed to be doing the money-thing with everyone. 
I don't always ask for pictures, but when I do, it's so I can do this. pic.twitter.com/kWZxv9G77V

— Elika Sadeghi (@steakNstiffarms) May 25, 2014
By the way, let's all agree that one-piece bathing suits are back in style.
Anyway, back to Gronk. The last time Gronk was pictured in Vegas back in February 2013, he treated everyone to some shirtless dancing, which was impressive because he still had a cast on his broken forearm.
This time around, Gronk was shirtless again, but there was no broken forearm. 
When Gronk goes to Vegas, I don't even think he packs a shirt. pic.twitter.com/VbmlRoq1rL

— John Breech (@johnbreech) May 25, 2014
Gronk didn't make his way to UFC 173, which was in Vegas on Saturday night, but Manziel did. Johnny Football sat near the front row for the fight. And I know what you're thinking Browns fans, he obviously left his playbook in his hotel room.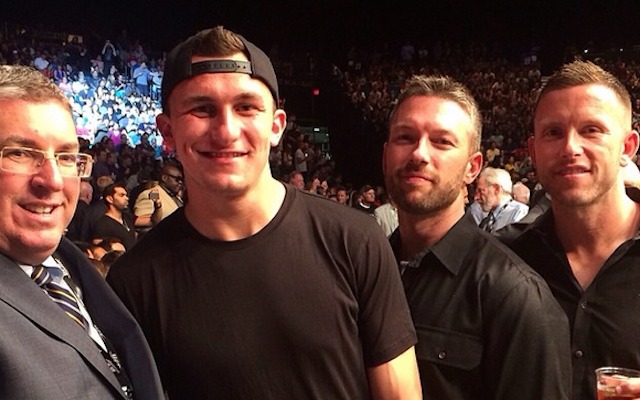 UPDATE: Manziel also found some time on Monday to hang out with Pauly D from "Jersey Shore."
(Wink of the CBS Eye to Barstool Sports)
The Jags were laughingstocks as recently as this summer; now they're 60 minutes from an AFC...

The Jaguars are poised for the biggest upset in recent playoff history

The Broncos may have tipped their hand as to which player they're targeting at No. 5
The Steelers didn't have to look far to find their replacement for Todd Haley

The pop superstar will seek halftime show redemption at Super Bowl LII

Our computer model simulated the AFC and NFC title games 10,000 times with surprising resu...