PHOTO: Johnny Manziel reacts to Cowboys passing on him at 16
The Cowboys didn't select Johnny Manziel with the 16th pick and Manziel made a face that said it all.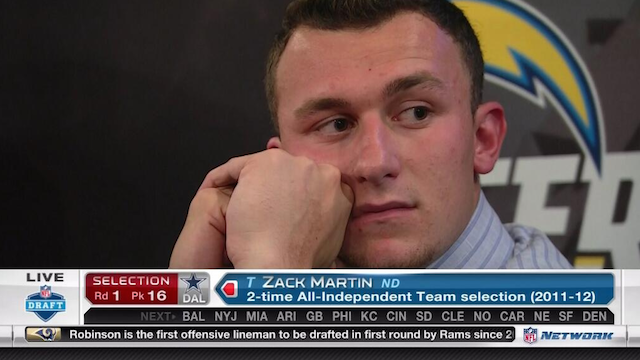 Draft coverage: Draft picks and grades | Prospect Rankings | Mock drafts | News
The stage was set at the NFL Draft for Cowboys owner Jerry Jones to do the most Jerry Jones thing ever: Draft Johnny Manziel. All Jones had to do was call the Cowboys representatives at Radio City Music Hall and say, 'We're picking Johnny.' 
Jones didn't do it though and in the process, he let down everyone on the internet and every football fan. Everyone with an online connection was ready to comment on the pick. So the photo above doesn't just express how Johnny Football's feeling, it's how we're all feeling. 
Although the Cowboys didn't take Manziel, they did draft Zack Martin and you can read more about that here. 
Forget being the highest paid receiver, Odell Beckham has loftier goals for his next contr...

There was a Rolls-Royce at Steelers training camp, but no Le'Veon Bell

'It ain't about 2016 and it ain't about 2018. It's about 2017,' Doug Williams told his qua...
Philip Rivers will not be moving to Los Angeles with the Chargers

Bryant has had off-the-field issues keeping him off the field for the past few years

Technically Woody Johnson is the Jets' owner, but on the other hand, Brady does own the Je...