PHOTO: Josh Freeman in Creamsicle jersey on Buccaneers Week 4 ticket
Josh Freeman won't be the Buccaneers quarterback against the Arizona Cardinals on Sunday, but he's still on the game tickets. Awkward.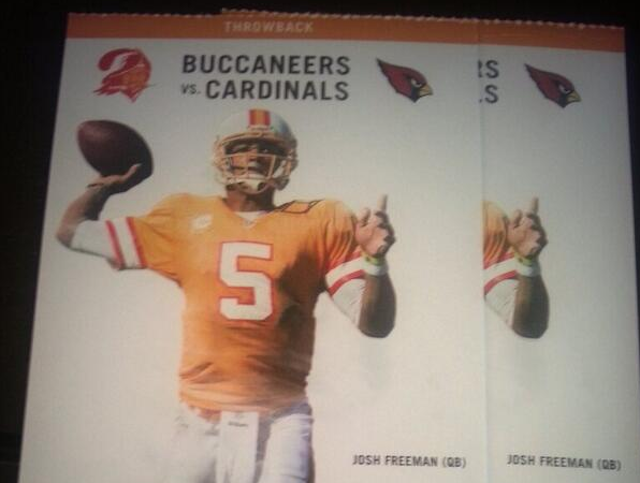 Tampa Bay coach Greg Schiano obviously didn't consult with the Buccaneers ticket department when he decided to bench quarterback Josh Freeman this week. Freeman is on Tampa Bay's Week 4 game ticket and even worse, Freeman's wearing the Buccaneers throwback Creamsicle uniform. As it turns out, Tampa Bay won't be using Freeman or its Creamsicle uniforms this week.
@CardsMarkD @AZCardinals @Cardschatter @kentsomers Ironic that my #az@tb game tickets have Josh Freeman pictured pic.twitter.com/TRC0ag9KaA

— Jake King (@AZJake) September 26, 2013
The Bucs canceled their plans to wear the Creamsicle uniforms against the Cardinals because of a new helmet rule instigated by the NFL for 2013. The new rule states that, for safety reasons, players can't wear alternate helmets. The Bucs currently wear pewter helmets, however, when they wear their throwback uniforms, they switch to white helmets.
You have to feel somewhat bad for the Buccaneers marketing department. They probably thought they had a home run on their hands when they picked out the design for the Week 4 tickets. 
"Alright guys, Week 4 is our throwback uniform game, so lets use a picture of a player in a throwback uniform. AND, lets make that player Josh Freeman because there's no way he'll be benched for a third-round rookie by Week 4. I mean, that would be impossible. There's no way coach Schiano will bench Freeman in favor of a guy that looks like Napoleon Dynamite."
Anyway, make sure to hold on to your tickets because they might be a collector's item some day. Or more likely, they'll just be the last ever Creamsicle-colored remnant of the Josh Freeman-era in Tampa Bay. 
The Patriots quarterback shows commitment from Day One

Cardinals' running back says he's feeling more energized

The Vikings' receiver is wearing his heart on his foot
The Ravens need help on the offensive line after dealing with injuries and a surprise reti...

The new Dolphins quarterback offered high praise for his receiver after his first preseason...

LeSean McCoy was probably a pretty popular person in the Bills locker room on Thursday