PHOTO: Lions LB Stephen Tulloch has a turkey in sunglasses
What does a turkey wearing sunglasses look like? Lions linebacker Stephen Tulloch has the answer for you.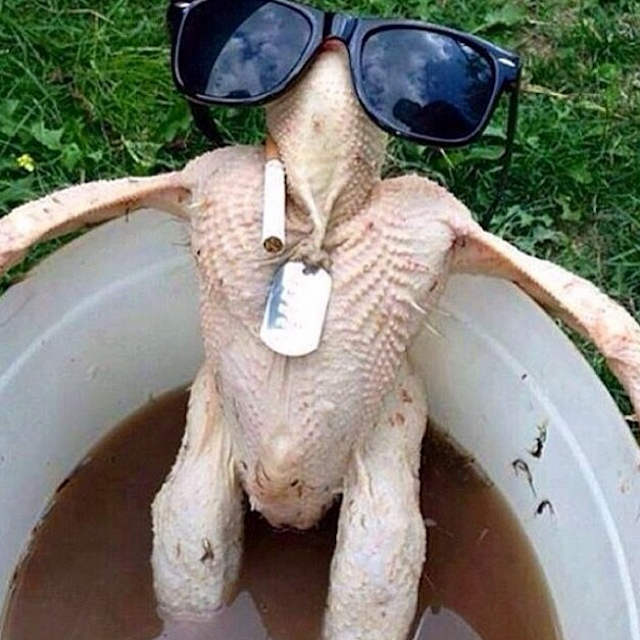 Like most people, Detroit Lions linebacker Stephen Tulloch bought a turkey for Thanksgiving this week. Unlike most people though, Tulloch decided to play dress-up with his turkey. 
As you can see in the picture above, Tulloch's turkey is spending its final hours in a hot tub that might actually be a fryer. Tulloch's turkey is also showing off the latest in turkey fashion trends, which include: sunglasses, dog tags and an unsmoked cigarette. My guess is that the turkey also knows algebra. I don't know why I think that, there's just something about this turkey that says 'I know algebra.'
Tulloch is probably doing the turkey a favor by eating him because judging by the turkey's smoking habits, it wasn't going to live much longer anyway. 
Also, someone might want to show this picture to Packers offensive lineman Josh Sitton.
Sitton called the Lions defense a bunch of 'scumbags' on Tuesday. However, Sitton must not have seen this picture because if he had, he wouldn't have included Tulloch in the scumbag statement because no one who dresses their turkey up like this could possibly be a scumbag. They might be a little odd, but not a scumbag. 
(Wink of the CBS Eye to For the Win)
No one was hurt, but Fournette's Mercedes lost a bumper

It might be time to begin worrying about the Patriots quarterback

The Patriots are still odds-on favorites, but the other teams are closing in
SportsLine tapped into its Vegas sources to see who professional bettors like Sunday

Philadelphia readies itself for a massive celebration if the Eagles advance to the Super B...

Guess who's back, back again, Texans' Watt took important step in returning to field