PHOTO: 'Madden 15' glitch means Titans have 14-inch tall linebacker
The Titans have a linebacker who is one-foot, two-inches tall in the newest Madden game.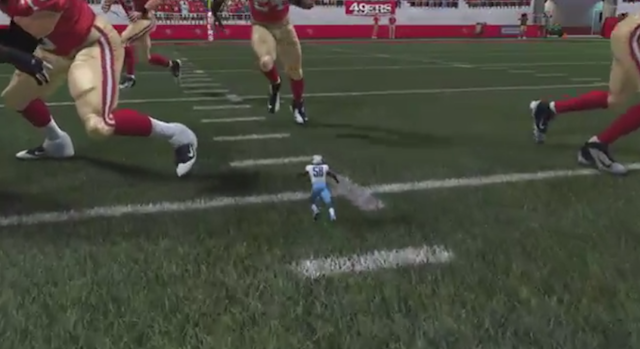 EA Sports' newest Madden NFL game got a lot of things right this year. For instance the designers included Manning-Face. However, there are also a few mistakes in the game. Take for instance Christian Kirksey. 
In real life, the Browns rookie linebacker is listed at 6'2", 235-pounds. In Madden 15 though, Kirksey is listed at 1'2", 235-pounds -- and he plays for the Titans. One-foot, two-inches is a big for a Smurf, but it's incredibly small for an NFL defensive player. 
As you can imagine, having a 14-inch linebacker on your team puts you at an inherent disadvantage in football. Just watch our 1'2" friend try and tackle. 
Although he can't tackle, Kirksey's not completely useless in the game, he can recover fumbles. 
HE GOT THE FUMBLE pic.twitter.com/O8rg8hdhlj

— Redskins 0-16 (@FreshCarbon) September 1, 2014
Oh, and just in case you're wondering, Kirksey thinks this whole midget linebacker thing is pretty funny.
No matter how small you are, have big dreams, and live big! #madden #glitch #1'2 #reallyLOL #goodmessagetho

— Christian Kirksey (@chriskirksey20) September 2, 2014
This glitch isn't good, but as far as glitches go, it's probably better than one that eliminates gravity. 
Super Bowl tattoos are never a good idea until your team has actually won the Super Bowl

A couple of dogs emerge victorious in the Conference Championship round

If the past 18 weeks are any indication, Tom Brady could be in trouble Sunday
The Patriots quarterback has been listed as questionable for Sunday's AFC Championship

It appears the Raiders didn't break any rules during their hiring of Jon Gruden

Jacksonville cornerback does not lack confidence heading into AFC Championship