PHOTO: Meet Ha Ha Kitten-Dix, the cat named after a Packers rookie
If you like adorable kittens and you happen to be a Packers fan, this picture may be too much for you to handle.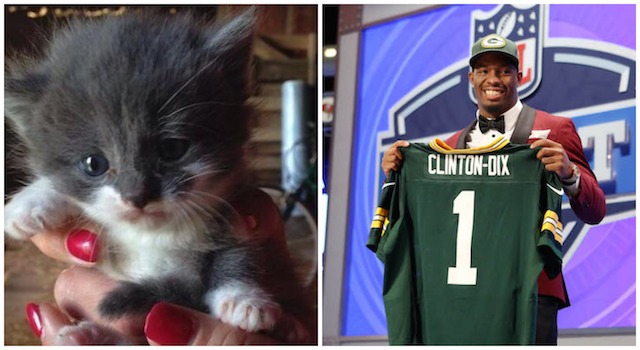 As most of you already know, the internet was invented so that people could post pictures of their cats online. As most of you also know, the Eye on Football blog was invented to bring you the latest NFL news. 
On the luckiest of days, those things get combined and we get to bring you NFL-related cat pictures -- like the one below. That adorable thing is Ha Ha KITTEN-Dix.
Meet "Ha Ha Kitten-Dix," named after #Packers' top draft pick. http://t.co/JSP1d33pWi WARNING: Extreme cuteness. pic.twitter.com/wE6S0vHvoq

— Jay Sorgi (@jsorgi) May 30, 2014
A family in Wisconsin decided to name their cat after Green Bay first-round draft pick Ha Ha Clinton-Dix. Apparently this family has a thing for naming its cats after Packers players. The last cat's name was Jordy. 
The Giants got a scare in the second quarter against the Browns

Welcome to the NFL's version of a dress rehearsal

The Browns protested the anthem on national television
Beckham passed tests for a concussion but the Giants will do more tests on his ankle

The president has something in common with Vladimir Putin

The Seahawks are trying to beef up their offensive line with George Fant out