PHOTO: Meet Marshawn Pinch, the Seahawks fan hermit crab
There's a hermit crab at the Seattle aquarium who happens to be a big Seahawks fan.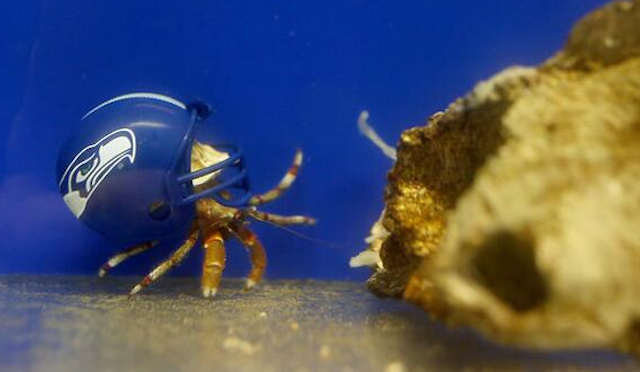 It's a known fact that everyone in Seattle is a Seahawks fan and that doesn't just include the people in Seattle, it also includes the decapod crustaceans in the city. 
Meet Marshawn Pinch, who lives at the Seattle Aquarium. The Seahawks fan hermit crab was introduced to us during the third quarter of the Seahawks divisional playoff game against New Orleans. Marshawn Pinch, of course, is named after Seahawks running back Marshawn Lynch. So it's probably a safe bet that Marshawn Pinch likes skittles. 
There's a hermit crab in Seattle named Marshawn Pinch. We all win. pic.twitter.com/cqhhvlzalO

— John Breech (@johnbreech) January 11, 2014
The Raiders RB sat through the 'Star Spangled Banner' but stood for the Mexican anthem on...

Plus the Eagles' formula for winning late, the AFC playoff mish mash and a budding young Vikings...

Here are the Week 11 grades for every team that played Sunday
The Eagles move to 9-1 after beating the Cowboys by four touchdowns

Peterman threw five interceptions in the first half before getting yanked

The Vikings' coach addresses the team's cloudy quarterback situation after their eighth win...