PHOTO: Meet Marshawn Pinch, the Seahawks fan hermit crab
There's a hermit crab at the Seattle aquarium who happens to be a big Seahawks fan.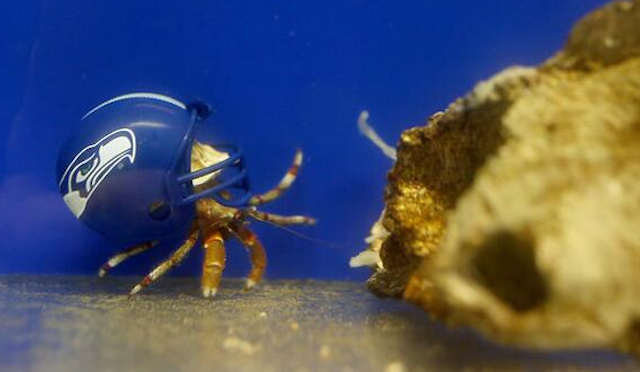 It's a known fact that everyone in Seattle is a Seahawks fan and that doesn't just include the people in Seattle, it also includes the decapod crustaceans in the city. 
Meet Marshawn Pinch, who lives at the Seattle Aquarium. The Seahawks fan hermit crab was introduced to us during the third quarter of the Seahawks divisional playoff game against New Orleans. Marshawn Pinch, of course, is named after Seahawks running back Marshawn Lynch. So it's probably a safe bet that Marshawn Pinch likes skittles. 
There's a hermit crab in Seattle named Marshawn Pinch. We all win. pic.twitter.com/cqhhvlzalO

— John Breech (@johnbreech) January 11, 2014
Keep up with the latest moves in free agency as teams try to build a Super Bowl contender

Zay Jones is no longer in jail

The Texans quarterback is a big believer in one certain QB from the 2018 NFL Draft
If you want to buy the Panthers, it's not going to be cheap

This might be the most interesting interview you'll ever hear about strawberries

It sounds like the Raiders are definitely out of the Suh sweepstakes