PHOTO: Oklahoma City Seahawks will be 2015 NFC Champions
A brewery in Oklahoma City thought it would be funny to joke about a possible Seahawks relocation in 2015.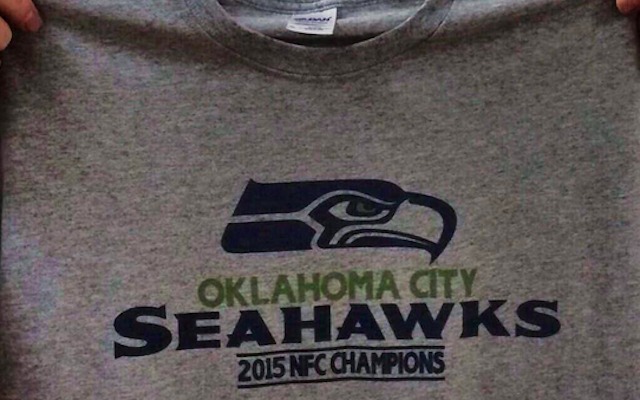 Oklahoma City has already taken one of Seattle's sports teams, so why not two? After the Seahawks won the Super Bowl on Sunday, an Oklahoma City-based brewery published the above picture on its Facebook page. 
As you can imagine, Seahawks fans didn't find the joke funny. At all. And that's because it's only been six years since Seattle lost the SuperSonics to Oklahoma City. 
To everyone tweeting those "Oklahoma City Seahawks" logos: Funny, but too soon.

— Dave Zirin (@EdgeofSports) February 4, 2014
At least one Facebook user was really bothered by the Oklahoma City Seahawks T-shirt. Here's what he wrote -- although you'll have to figure out what he meant in several places because I've had to replace some key letters with dashes, "It's not a f------- joke. You f------ d-----bags stole our f------ team and then you try to pull this s---?"
The Steelers quarterback explains what happened on the play that sealed the Patriots' stunning...

The mogul wants to purchase the team from Jerry Richardson

The Seahawks apparently didn't enjoy getting shellacked by the Rams on Sunday
Week 15 provided a lot of clarity to the NFL postseason

The ending to New England-Pittsburgh was wild, and one play appeared to change the game at...

The Steelers' best player is expected back but not until the postseason