PHOTO: Patriots coach Bill Belichick goes pirate for Halloween
Have you ever seen Patriots coach Bill Belichick smile? In a pirate costume? Didn't think so.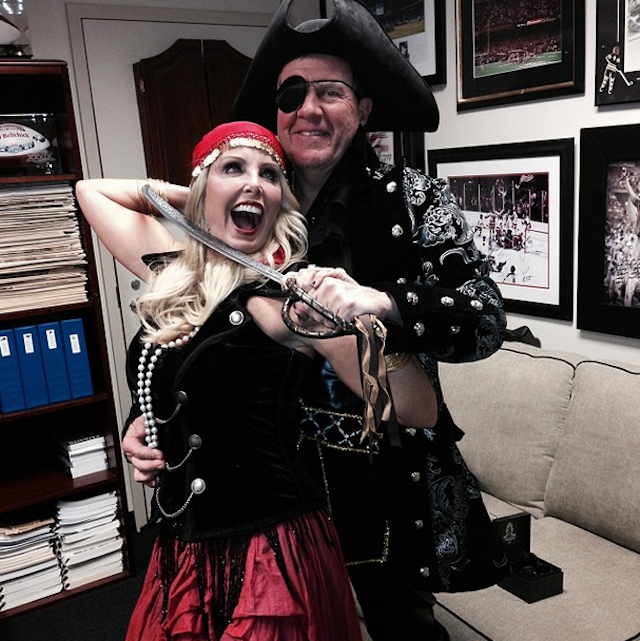 If you've ever wondered what Patriots coach Bill Belichick looks like with a smile on his face -- or dressed up as a pirate -- Halloween is here to answer both of those questions for you. Belichick's better half Linda Holliday posted this photo of her and Bill on Instagram.
What she posted might be the only picture in existence of Bill Belichick smiling during football season. If Pirate Bill Belichick isn't fun enough for you, then maybe baby Bill Belichick will put a smile on your face. Look at cute little baby Bill Belichick. It's no baby Andy Reid, but to be fair, nothing tops a baby with a walrus mustache. Except a baby with two walrus mustaches! But I haven't seen that yet. 
Also, if any parents need a costume idea for their baby, I think pirate baby Bill Belichick is the next logical move.  
Little Belichick ready to call some plays! @Patriots #nfl #Pats #halloween pic.twitter.com/fZy3RXRBgo

— Andrew Tomasi (@AndrewJTomasi) October 27, 2013
Oh and if you're wondering, Belichick did not coordinate his costume with Tom Brady. Brady and his supermodel wife Gisele Bundchen were off seeing the wizard this week. 
---
Follow John Breech on Google+
Super Bowl tattoos are never a good idea until your team has actually won the Super Bowl

A couple of dogs emerge victorious in the Conference Championship round

Our computer model simulated the AFC and NFC title games 10,000 times with surprising resu...
If the past 18 weeks are any indication, Tom Brady could be in trouble Sunday

The Patriots quarterback has been listed as questionable for Sunday's AFC Championship

It appears the Raiders didn't break any rules during their hiring of Jon Gruden