PHOTO: Pete Prisco shows up at Jaguars fans' Tim Tebow rally
Pete Prisco is not exactly Tim Tebow's biggest supporter. So it should be no surprise that he showed up at a Tim Tebow rally for reasons other than supporting the cause.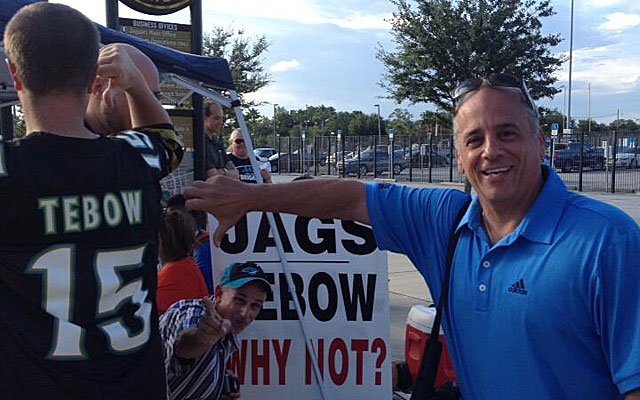 As reported earlier, a group of long-suffering Jacksonville Jaguars fans has rallied for the cause of signing Tim Tebow, bringing the hometown boy back home and, perhaps, easing the QB worries of the 0-2 Jags.
They set up a Facebook page and a website to gather support for their cause. They also staged a rally at EverBank Field on Monday (at 3:16 p.m. ET, because of course).
CBSSports.com senior writer Pete Prisco isn't a huge fan of Tim Tebow, but since he was in town, he sure didn't miss this chance to stir the pot.
I am part of the movement. Not pic.twitter.com/h5zn5rKJO4

— Pete Prisco (@PriscoCBS) September 16, 2013
It's nice to see at least one guy -- other than Prisco, that is -- took the gesture in good humor. And something tells us there are a lot of Jaguars fans out there who agree with Prisco on this one, for a change.
One of the biggest penalties in Thursday's game was a controversial flag that went against...

If Ezekiel Elliott gets suspended, it likely won't come until Week 5 at the earliest

The NFL is apparently concerned that the Chargers might not be viable in Los Angeles
Everything you need to know for Week 3 of the 2017 NFL season is here

You can find every official injury designation for each NFL team shortly after its Friday report...

The Bengals are the only NFL team Aaron Rodgers has played against without earning a win