PHOTO: Raiders faced a third-and-48 against Kansas City
How does third-and-48 happen? Let the Raiders show you how.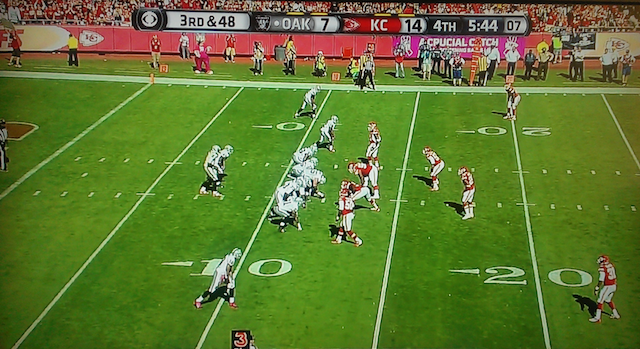 When you're trying to come back from a 14-7 fourth quarter deficit, it usually helps when you run plays that gain positive yardage. Unfortunately for the Raiders, they had some trouble doing that against Kansas City. 
The Raiders started a fourth quarter drive at their own 18-yard-line and moved forward 32-yards before things went sour. 
On first-and-10 from the 50, the Raiders were called for a 10-yard holding penalty. On first-and-20, Oakland quarterback Terrelle Pryor was sacked for a 12-yard loss. 
On second-and-32, the Raiders were called for a five-yard delay of game penalty. Things didn't get much better after that either. On second-and-37, Pryor was sacked for an 11-yard loss to make it third-and-48. 
The Raiders actually had something positive happen on third down: they didn't lose any yards. Mainly because Pryor threw an incomplete pass. 
To add insult to injury, on fourth-and-48 punter Marquette King jacked a 46-yard punt. The kick didn't even make it past the first down marker. 
The Chiefs went on to win the game 24-7, improving Kansas City's record to 6-0. 
SportsLine's Mike McClure, a DFS pro with more than $1M in winnings, gives optimal lineup...

The Eagles quarterback and the Vikings quarterback have paths that have crossed many times

Can the Vikings become the first home team to play in a Super Bowl?
Wondering which teams will be advancing to Super Bowl LII? You've come to the right place to...

Ken Norton Jr. didn't even last a week in San Francisco

One bettor in Vegas is going to make some serious money if the Jaguars win it all