PHOTO: Ravens K Justin Tucker receives gift basket from Dr. Pepper
The fine people at Dr. Pepper sent some of their famous soda to Justin Tucker for hitting six field goals against the Lions.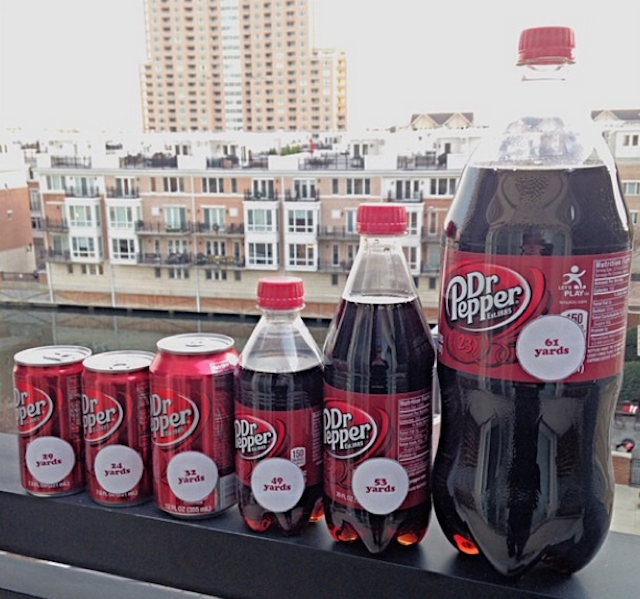 There's only one thing more exciting than making six field goals in an NFL game: Making six field goals and getting free Dr. Pepper for it. And now, thanks to his performance against theLions, Ravens kicker <player idref=er has some extra Dr. Pepper in his apartment his week.
As you can see above, Dr. Pepper sent Tucker a gift basket of Dr. Pepper in recognition of each of the field goals Tucker hit against Detroit. Because the PR people at Dr. Pepper are clever, Tucker was sent a different size container for each field goal he hit. Tucker hit field goals from 24, 29, 32, 49, 53 and 61 yards in the game. 
Tucker was on fire against the Lions, so maybe he should turn his free gift into these: 
Flaming Dr. Pepper pic.twitter.com/5XRQ1aEhqg

— the perfect cocktail (@perfectdrinks) October 18, 2013
Anyway, free Dr. Pepper is nice, but that might not be all Tucker gets. He should be seeing something in the mail soon from Chicago Bears safety Anthony Walters. 
Does anyone know where Justin Tucker lives? I'm sending him a gift.

— Anthony Walters (@Anthony_Walters) December 17, 2013
(Wink of the CBS Eye to For The Win)
Everything you need to know about the Packers-Panthers game on Sunday afternoon

The Lions will be wearing their Color Rush uniforms for the first time on Thursday

The Lions look to maintain playoff positioning while the Bears attempt to play spoiler
The Panthers have hired an outside law firm to conduct the investigation

Here's every official injury designation for each NFL team for Week 15

Bennett was one of the few players who escaped punishment after Sunday's melee in Jacksonv...