PHOTO: Redskins rookie kicker Zach Hocker hazed with hideous haircut
There are ugly haircuts and then there's what Redskins rookie kicker Zach Hocker has on his head right now.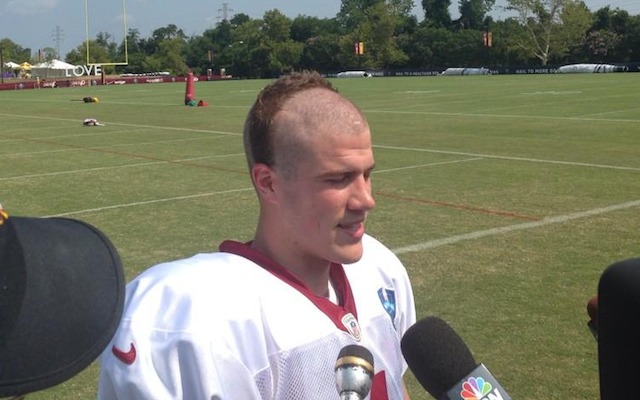 More NFL: Photos |  Videos & GIFs |  Training Camp updates | Manziel watch
Generally, there are two people you don't want to be in an NFL locker room during training camp: A rookie or a kicker. Zach Hocker is proof of what happens when you're both. 
The seventh-round pick out of Arkansas showed up at the Redskins' team skit this week and was supposed to do something funny. Hocker couldn't think of anything funny, so he thought of something else, "I'll cut my hair however you want to cut it," Hocker told his teammates, via ESPN.com.
That ill-advised statement led to the photo you see at the top of the page from CSN Washington's Tarik El-Bashir.
Hocker was also nice enough to tweet out a side, profile view of his haircut. 
No one ever said your rookie season would be easy... pic.twitter.com/KjZA3NCg5V

— Zach Hocker (@zhocker18) July 31, 2014
Obviously, this all leads to one question: Whose haircut was worse -- Hocker or Tebow?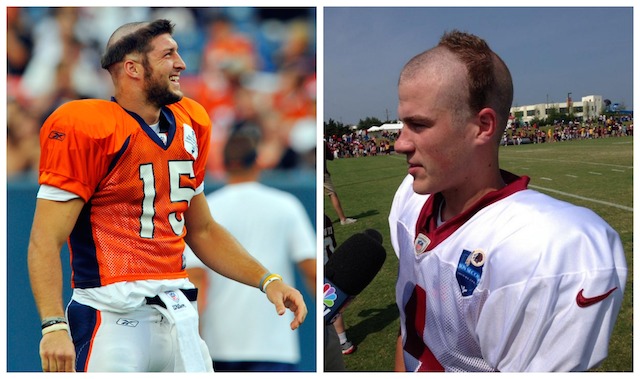 The Eagles quarterback reaffirmed his faith and said he plans on coming back stronger than...

The Buccaneers are 4-9 and firmly out of the playoff mix, and now their best player is hur...

It might be time for Johnny Football to head to the Great White North
Rodgers has been out with a broken collarbone since Week 6

Mariota and left tackle Taylor Lewan both escaped serious injuries

This might go down as the most expensive snowstorm of Adam Vinatieri's life