PHOTO: Rex Ryan, Rob Ryan pose pregame with father, Buddy Ryan
Before the Saints and the Jets face off Sunday, the Ryan brothers shared a moment with their dad.
• 1 min read
As we pointed out earlier this week, Jets head coach Rex Ryan will face off against his twin brother, Saints defensive coordinator Rob Ryan, when the two teams meet Sunday.
As such, it was time for a nice family photo with the Ryan brothers and their father, legendary coach Buddy Ryan, before the game started. Here's one shot, via a Saints sideline reporter.
Buddy Rob And Rex #Saints vs #Jets pic.twitter.com/LTyBsZISSt

— Kristian Garic (@KristianGaric1) November 3, 2013
This probably will be the last time the Ryan brothers smile at each other until after the game is over. Particularly since Rex Ryan has dominated his brother throughout their NFL coaching careers.
As I wrote earlier in the week:
For the record, this is the third time a defense coached by Rob will face Rex when the latter is a head coach. In Week 1 of the 2011 season when Rob was the defensive coordinator in Dallas, the Jets won 27-24, and in Week 10 of the 2010 season when Rob was the defensive coordinator in Cleveland, the Jets won 26-20 in overtime.

The two met as dueling defensive coordinators in 2006 and 2008 (when Rex was with the Ravens and Rob was with the Raiders). The Ravens won 28-6 in 2006 and 29-10 in 2008.
Just for a reference point, here's how the brothers looked in the early 1980s (with mustaches!!!)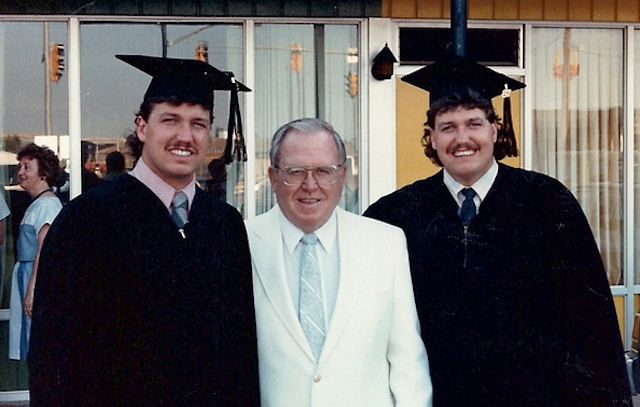 And ...
Fitting for Movember: Rex & Rob Ryan at Southwestern Oklahoma St. Entered college at 6-4, 180 lbs (via @NFLNetwork). pic.twitter.com/CuR4rdgfIV

— ryan wilson (@ryanwilson_07) November 3, 2013
Overall, here's what to take from this post: photos of the Ryan brothers together, with or without facial hair, equal visual gold.
Follow Josh Katzowitz on Google+
The NFC is going to be a blast to watch down the stretch, but don't sleep on the Patriots'...

The Dolphins just created a serious shock in the AFC and MVP races by beating the Patriots

With their 2017 season basically over, it's time for Texans fans to turn their attention to...
Now 10 different players have intercepted Tom Brady multiple times in one game

Brady lofted it between two defenders and Lewis snatched it with one hand