PHOTO: Saints paint Seahawks logo on their practice field
Saints coach Sean Payton is a master strategist. Last week, he switched the team's Gatorade flavor before they beat the Eagles. This week, he had something painted on the Saints practice field.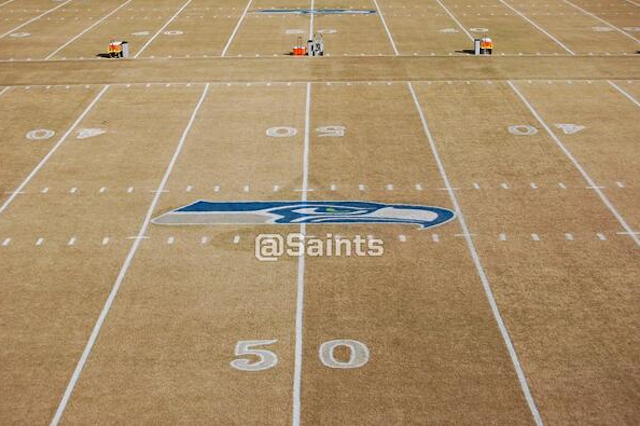 Before New Orleans played Philadelphia last week, Saints coach Sean Payton decided to switch a few things up in the team's routine. The Saints switched Gatorade flavors and the team even got new sweatsuits. 
Powered on by a more tasty Gatorade flavor and the new sweatsuits, New Orleans won its first road playoff game in team history with a 26-24 win over the Eagles. 
This week, Payton has a new tactic as the Saints prepare to play in Seattle: He had the team groundskeepers add the Seahawks logo to the Saints practice field. Payton said the logos were added because he's 'trying to create the exact environment' his team will face in Seattle.
If Payton's trying to do that, he may also want to have jets taking off next to the practice field -- to simulate the noise. Payton may also want to consider having his team practice in a car wash at some point, because apparently, there's a 100 percent chance of rain in Seattle on Saturday. 
There's also the possibility Goodell steps aside early if his potential successor is progressing...

The league could return to its pre-2009 policy after a year in which pregame protests took...

Arians hasn't said he's retiring, but the team has discussed contingencies for a coaching...
O'Brien would be a coveted coaching candidate if he were to hit the open market

Though owner Jimmy Haslam said Jackson is safe for 2018, new GM John Dorsey may decide oth...

The Texans quarterback was at the middle of controversy last week with how his head injury...