PHOTO: Seahawks fan gets 'Super Bowl XLVIII champs' tattoo
There's one Seahawks fan in Seattle who's so confident about a Super Bowl win this year that he got Super Bowl 'XLVIII Champs' tattooed on his inner-wrist.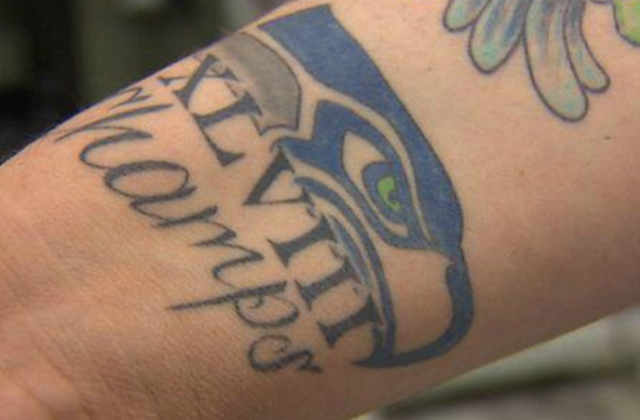 If the Seahawks lose to the 49ers on Sunday, the saddest Seahawk fan in Seattle might be Tim Connors. That's because Connors has a tattoo on his inner-wrist with the Seahawks logo that says 'XLVIII Champs.' 
Basically, if the Seahawks don't win the Super Bowl this year, Connors will have a permanent reminder that they didn't win it. Why get a tattoo before Seattle's even in the Super Bowl? Connors says he's confident, not crazy, and that he's absolutely positive the Seahawks are going to win it all. 
"There's no tiny little bit of doubt at all anywhere in my head," Connors told Komonews.com in Washington.  
The safe thing to do here would have been to get a tattoo that says 'Super Bowl Champs.' That way, if the Seahawks ever win a Super Bowl, the tattoo would be relevant. Instead, the tattoo could become meaningless as soon as Sunday night if the Seahawks don't make it to Super Bowl XLVIII.
Connors will be keeping his fingers crossed that the Seahawks can beat the 49ers in the NFC title game. Even after that though, a Seattle Super Bowl win is no sure thing because the Seahawks would have to beat either Tom Brady or Peyton Manning in Super Bowl XLVIII. 
Philadelphia readies itself for a massive celebration if the Eagles advance to the Super B...

Guess who's back, back again, Texans' Watt took important step in returning to field

Ryan seems likely to become one of the highest-paid players in the NFL
StubHub and TickPick say a Minnesota victory on Sunday could have huge implications on sal...

The Jaguars are long shots to win the AFC, but they might have a secret weapon

The Falcons won't be making a change at offensive coordinator after a disappointing season