PHOTO: Seahawks fan gets 'Super Bowl XLVIII champs' tattoo
There's one Seahawks fan in Seattle who's so confident about a Super Bowl win this year that he got Super Bowl 'XLVIII Champs' tattooed on his inner-wrist.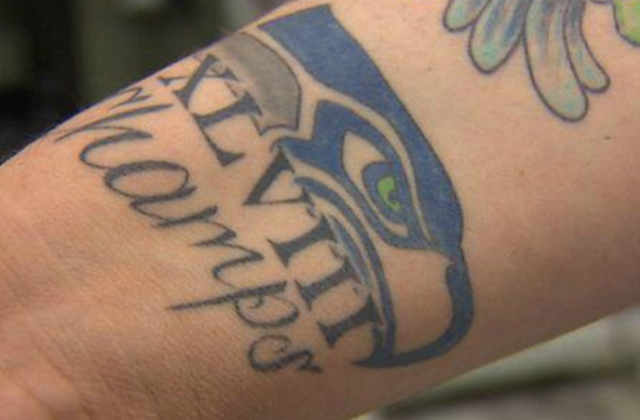 If the Seahawks lose to the 49ers on Sunday, the saddest Seahawk fan in Seattle might be Tim Connors. That's because Connors has a tattoo on his inner-wrist with the Seahawks logo that says 'XLVIII Champs.' 
Basically, if the Seahawks don't win the Super Bowl this year, Connors will have a permanent reminder that they didn't win it. Why get a tattoo before Seattle's even in the Super Bowl? Connors says he's confident, not crazy, and that he's absolutely positive the Seahawks are going to win it all. 
"There's no tiny little bit of doubt at all anywhere in my head," Connors told Komonews.com in Washington.  
The safe thing to do here would have been to get a tattoo that says 'Super Bowl Champs.' That way, if the Seahawks ever win a Super Bowl, the tattoo would be relevant. Instead, the tattoo could become meaningless as soon as Sunday night if the Seahawks don't make it to Super Bowl XLVIII.
Connors will be keeping his fingers crossed that the Seahawks can beat the 49ers in the NFC title game. Even after that though, a Seattle Super Bowl win is no sure thing because the Seahawks would have to beat either Tom Brady or Peyton Manning in Super Bowl XLVIII. 
Cowboys rookie Jourdan Lewis got some good news on Tuesday.

The Ravens might need some help at running back

The Jaguars are making people rich
It looks like Michael Vick is hoping to make the transition from player to coach

The former undrafted free agent is about to get a huge raise

Both Malik Hooker and Andrew Luck are on the PUP list, so maybe it's time to start worryin...