PHOTO: Seahawks Hummer runs over fake Colin Kaepernick
If you're in Seattle and you thought you saw a Hummer driving around with Colin Kaepernick on the hood, you're not completely crazy.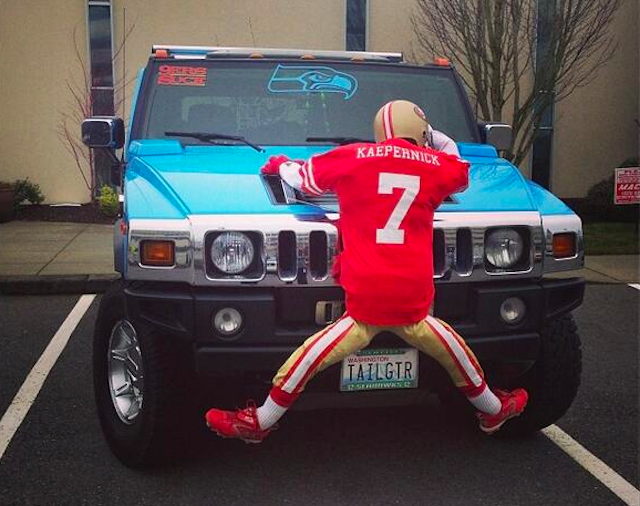 Don't worry 49ers fans, Colin Kaepernick didn't get hit by a Hummer in Seattle on Sunday, but at least one Seahawks fan is trying to make it look that way. 
As you can see above, there's a Hummer driving around Seattle with a Kaepernick effigy hanging off the hood of the car. How much does it cost to make a 5-foot tall fake Colin Kaepernick? I have no idea, but I'm sure it was worth it for the driver of the car because he was probably one of the most popular people in Seattle this week.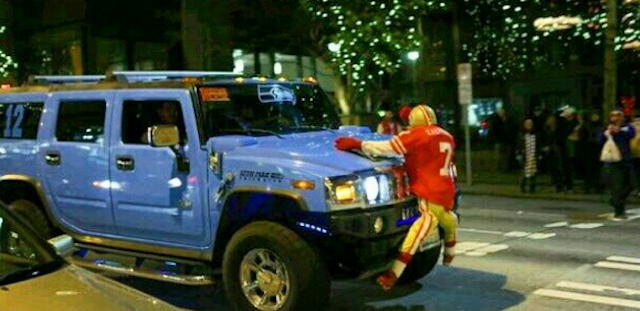 The Hummer ran over a fake Drew Brees last week and then the Seahawks defense went out and ran over the real Drew Brees. So that's probably the hope for Sunday's NFC Championship game.  
Spotted at a Seattle area Safeway parking lot (via my friend, SG.) ... Oh?! pic.twitter.com/YZpy9xD818

— The Pigskin Arch (@ThePigskinArch) January 11, 2014
The Pro Football Hall of Fame is one step closer to announcing the Class of 2018

Grab some turkey and get ready for this NFC North showdown

SportsLine's top NFL and college football experts pick a 4-team parlay that pays 10/1
After an epic collapse against the Saints, the Redskins are hoping to right the ship

Brice Irvin is not a happy camper right now

Linda Del Rio is not happy with the president