PHOTO: Seahawks QB Russell Wilson goes bowling with Justin Bieber
Is Russell Wilson a better bowler than Justin Bieber? That important question was answered over the weekend.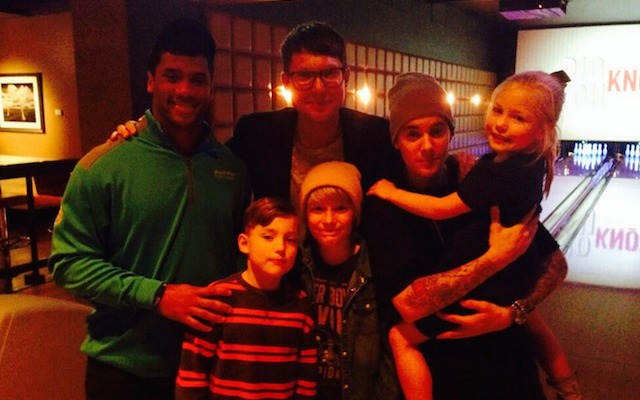 More Draft coverage: Mock Drafts | Prospect Rankings | Big Board | News
I had an idea for a reality television show once called 'Bowling with Bieber,' but I never told anyone about it because no would watch and it's actually a horrible idea.
Just because there's no show though doesn't mean people can't actually go bowling with Bieber. Take Russell Wilson for instance. 
The Seahawks quarterback went bowling with Bieber on Sunday. The pop star was in Seattle to attend church services with Wilson, then afterward, they headed to Lucky Strike Lanes. 
Obviously, the big question here is: Who's the better bowler?
Unfortunately for Beliebers, it looks like the answer is Wilson. 
Wilson tweeted out the final score card and he finished on top with a score of 148. Church pastor Judah Smith finished in second with a 147. TMZ says that Bieber finished in third, which means the Biebs bowled an even-100. 
Bieber must have let one of his security guards roll his final ball because that's the only way to explain how he was bowling faster than Wilson in the final frame (17.5 mph to 16.5 mph). 
148-147... Sorry @judahsmith #LuckyStrike pic.twitter.com/92m3RVwQzM

— Russell Wilson (@DangeRussWilson) May 4, 2014
By the way, if you thought you saw Bieber everywhere this weekend, you did. The teeny-bopper was also in Las Vegas on Saturday for the Floyd Mayweather-Marcos Maidana fight. 
Thank you @justinbieber, @liltunechi and all of #TMT for your love & support. We did … http://t.co/PfimYM66YC #selfie pic.twitter.com/676EPe32gt

— Floyd Mayweather (@FloydMayweather) May 4, 2014
The Dallas receiver threw up the X after his score, and he certainly deserved it

The singer sent a message with a verse of scripture on Monday night

The Cowboys owner joined in a demonstration with the Cowboys players before Monday night's...
Look for Ezekiel Elliott and Dak Prescott to rebound after a rough outing in Denver

Quarterback Russell Wilson was one of the chief proponents for the Seahawks staying in the...

The Steelers offensive lineman was only on the field by accident during Sunday's national...