PHOTO: This is what an NFL player looks like in a sleeveless plaid shirt
Eagles tight end Brent Celek made a fashion statement at Philly's training camp on Friday.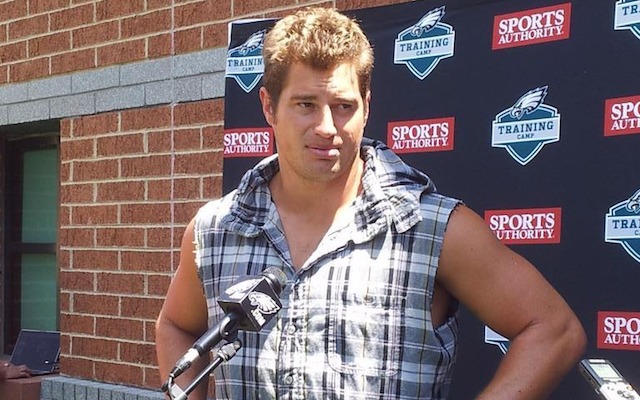 There's no arguing with it: Plaid is in right now.
Now I know nothing about fashion, but I do know that celebrities wear plaid and if celebrities wear something then that means it's cool. 
If plaid is cool, the logical next question is: Is sleeveless plaid cool? 
I say yes. And apparently so does Eagles tight end Brent Celek. 
I was just about to put my plaid sleeveless hoodies away for the season but apparently it's still kosher to wear them pic.twitter.com/rVgoH17kif

— Rev (@Rev215) July 25, 2014
Oh and good luck getting your hands on a sleeveless plaid shirt because they ARE SOLD OUT EVERYWHERE. Maybe Larry the Cable Guy bought them all. 
Intv'ing comedian Larry the Cable Guy @GitRDoneLarry today on #LarryKingNow - what do you want to know? Tweet your ?s pic.twitter.com/dPXpfVN5oL

— Larry King (@kingsthings) April 30, 2013
All signs point to Lynch, the former first-round pick, not beating out Siemian in Denver

The NFLPA executive director comes out out firing in a 'Real Sports' segment

Why didn't McCown, the presumed starter, play Saturday? The Jets don't want you to know
The Raiders duo had a great explanation for their decision to stand next to each other

Dave Richard helps us determine Fantasy football's biggest August draft decision

The former Buccaneers kicker did not have things start well for him in Chicago