PHOTO: Titans feel it's appropriate to play with 14 men on defense
Tennessee had a bit of a counting problem on Thursday.
• 1 min read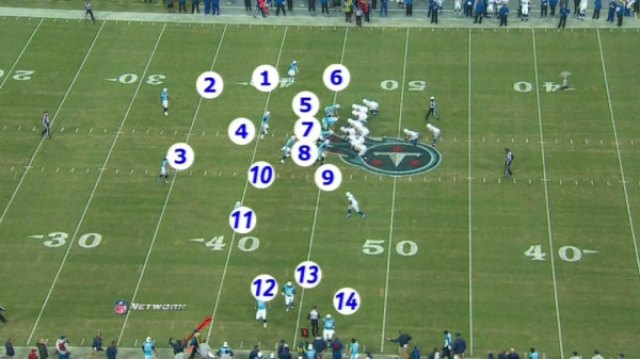 As you can see in the above photo, the Titans had 14 men on the field when Colts quarterback Andrew Luck snapped the ball on the final play of the first quarter Thursday.
Problem was that the officials didn't call a penalty on Tennessee even though there were 14 FREAKIN' MEN on the field.
Indianapolis, though, challenged the non-ruling, and after an interminably long delay (the review took about four times as long as an obvious overturning should have), the officials called the correct penalty on Tennessee. As such, the Colts luxuriated in those extra sweet five yards.
Good thing, because I was beginning to think that if a team had 14 men on the field, the officials would applaud its initiative and creativity and forget about throwing their yellow flags.
Follow Josh Katzowitz on Google+
All signs point to Lynch, the former first-round pick, not beating out Siemian in Denver

The NFLPA executive director comes out out firing in a 'Real Sports' segment

Why didn't McCown, the presumed starter, play Saturday? The Jets don't want you to know
The Raiders duo had a great explanation for their decision to stand next to each other

Dave Richard helps us determine Fantasy football's biggest August draft decision

The former Buccaneers kicker did not have things start well for him in Chicago