PHOTO: Tony Romo sitting with two ex-presidents at NCAA title game
If sitting in front of two ex-Presidents is the best seat in the house, then Tony Romo has the best seat in the house at the NCAA title game.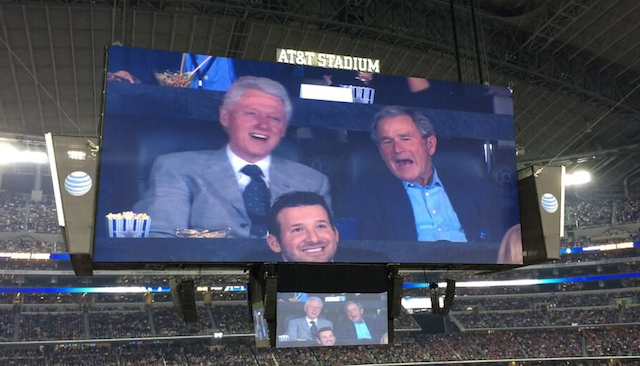 Why is everyone laughing so hard in the picture above? I'm guessing because of the fact below.
These 3 guys are 4-0 in Presidential elections but have only 1 playoff win combined. pic.twitter.com/ixg094QmqK

— Barry Horn (@bhorn55) April 8, 2014
The pictures above actually get even better because the guy in the blue shirt above Clinton's head isn't a secret service agent, it's Cowboys coach Jason Garrett. And looks like Garrett made Jason Witten -- who's next to Romo -- wear the same outfit as him. Hopefully we get a Romo-Garrett-Clinton-Bush-Witten selfie before the night's over. Laura Bush can be in it, too.
Kentucky's curse: LOCATED: pic.twitter.com/jEUZdweBY8 #ROMO

— LostLettermen.com (@LostLettermen) April 8, 2014
Forget being the highest paid receiver, Odell Beckham has loftier goals for his next contr...

There was a Rolls-Royce at Steelers training camp, but no Le'Veon Bell

'It ain't about 2016 and it ain't about 2018. It's about 2017,' Doug Williams told his qua...
Philip Rivers will not be moving to Los Angeles with the Chargers

Bryant has had off-the-field issues keeping him off the field for the past few years

Technically Woody Johnson is the Jets' owner, but on the other hand, Brady does own the Je...