PHOTO: Two Saints players stuck in room with one bed at training camp
There's a bed shortage in West Virginia.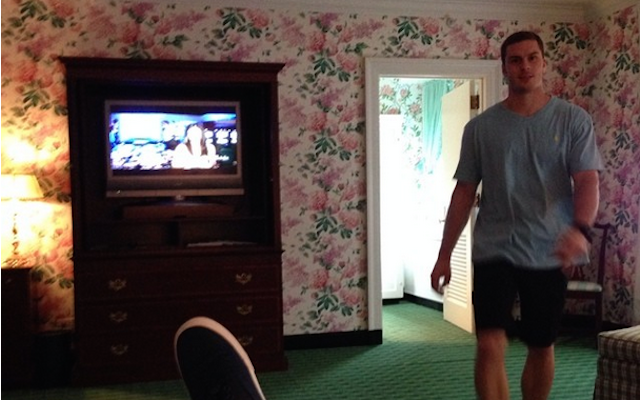 More NFL: Photos |   Videos & GIFs |  Stories | Training Camps | Johnny Manziel watch 
The Saints decided to move their training camp to West Virginia this year and apparently West Virginia is out of beds -- or someone just decided to play a mean prank on receiver Andy Tanner and fullback Austin Johnson. 
Tanner and Johnson are roommates at training camp and there seems to be one problem with the room they're sharing: There's only one bed. 
Tanner posted the picture below to Instagram this week, with the caption, "It's going to be a long training camp if we don't get this room figured out. One bed isn't going to work."
Actually, there seems to be several problems, like the wallpaper and the carpeting. That might have worked in 1954, but it doesn't work in 2014 and definitely doesn't work for Jimmy Graham. 
Don't be surprised if the Saints tight end spends some of his new contract money on replacing that floral wallpaper.
Lucky for us, Saints running back Pierre Thomas caught Graham's reaction when he walked into his hotel room for training camp this week. 
"This is ridiculous. Pink? Flowers? Look at what I have to stare at all night," Graham said in what can only be described as a slightly unenthusiastic tone. 
Bell reportedly showed up for only the last five minutes of the team's walkthrough

Two super-sized runners and a pair of tall wideouts have the skills to shine during a week...

The Vikings become the first team to play in a Super Bowl held in their home stadium
Belichick was predictably mum in regards to Brady's status

R.J. White, who nearly won the Las Vegas SuperContest, locks in his pick for the NFC Championship...

Everything you need to know about the AFC and NFC title games